What Have You Done to Solange?
(1972)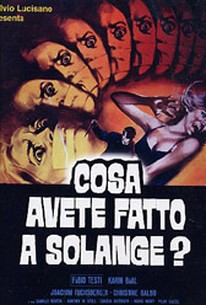 Movie Info
One of the final links between the Edgar Wallace-based German krimi genre and the Italian giallo thriller, this creepy mystery stars Fabio Testi as a college professor who sleeps with his students and is blamed when a string of murders occurs. Joachim Fuchsberger, as usual, is the police inspector trying to solve the killings; Camille Keaton, Buster Keaton's grand-niece and later the star of Meir Zarchi's I Spit on Your Grave (1980) has a supporting role; cameraman Aristide Massaccesi, later infamous as gore director "Joe D'Amato," turns up as a cop. Massimo Dallamano's direction is assured. This first-rate thriller was based on Wallace's Secret of the Green Pin.
Critic Reviews for What Have You Done to Solange?
Audience Reviews for What Have You Done to Solange?
½
What Have They Done to Solange? puts all of it's efforts into the mystery that it is uncovering. Unlike a lot of giallo, this one doesn't put the focus on overly gory death scenes and use the mystery as an excuse to string them together; it's focus is the mystery, and the murders are secondary to it. Due to the graphic and sexual nature of the death scenes, however; this is probably a good thing. The plot of the movie follows an investigation of the death of a schoolgirl. After the death, a teacher at the school, Enrico, becomes the main suspect because of his close affiliation to several of the girls in his class. When more schoolgirls turn up dead, Enrico and his wife decide to try and solve the murder themselves. The mystery pans out very intricately, and small clues as to who is the murder and their motive are given out slowly as the film goes along; thus keeping your interest, but not giving you enough to chew on so that you will be able to solve the mystery, but it does give you enough to chew so that you will be able to develop theories as to who the murderer is. This is a very good thing, as it makes sure that the film is interesting throughout and it is guaranteed to keep viewers on the edge of their seats. Trust me, you'll be begging to know who and why after the amount of suspense this movie builds up. That's not to say that this movie is all build up either; it pays off the viewer's patience at the end with a conclusion that is satisfyingly tragic, and also one that makes sense, and thereby gives the murderer and his intent a definite degree of potency, and we can even feel a little bit for him. A lot of Italian horror movies seem to fall down at the end as their conclusion doesn't make perfect sense, but that is not true of this movie; and that is a definite plus point. This movie is given another edge over a lot of other giallo thanks to a great score by the king of great scores, Ennio Morricone. As usual, Morricone's score fits the film and gives it more reason to be memorable. The acting in What Have They Done to Solange? is not one of its main plus points, but it's not bad either. The screenplay is great, though, mostly due to the fact that it doesn't feature anything that's needless and it keeps developing for the entire duration of the movie, and this therefore makes sure that the viewer has to pay absolute attention to the film as missing two minutes of it could result in missing something important to the mystery, and it therefore ties the viewer to the movie in that way. This movie isn't as heavy on style as other giallos; as previously mentioned there's no overly gory death sequences, but it more than makes up for this loss in style with an abundance of substance, and that is better for this kind of intricate mystery. Overall, What They Done to Solange? is an absolute highlight of the giallo style and is therefore recommended to anyone that likes this kind of movie. Unfortunately, What Have They Done to Solange is not readily available and that therefore means that people that want it will have to dig for it; but trust me, it's worth it.
Cassandra Maples
Super Reviewer
½
The film is not as gory as many other brilliant Gialli, but the manner in which the murders are carried out is more than a bit nasty. It is well-written and enjoyable film that will have you guessing right up until the end. It has a good storyline, good performances and music.
½
Gets cheesy early and sets up residence quickly, but that's not to say this is a bad movie. What Have You Done To Solange is nasty, sleazy and silly. It jumps from serial killer movie to detective film. Add an Ennio Morricone score and you can do no wrong.
Michael Gildea
Super Reviewer
What Have You Done to Solange? Quotes
There are no approved quotes yet for this movie.