What Lies Beneath
(2000)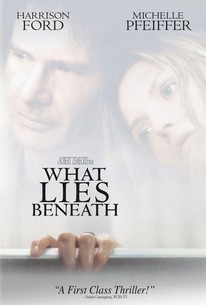 Movie Info
It had been a year since Dr. Norman Spencer betrayed his beautiful wife Claire. But with Claire oblivious to the truth and the affair over, Norman's life and marriage seem perfect--so perfect that when Claire tells him of hearing mysterious voices and seeing a young woman's wraithlike image in their home, he dismisses her mounting terror as delusion. However, as Claire moves closer to the truth, it becomes clear that this apparition will not be dismissed, and has come back for Dr. Norman Spencer... and his beautiful wife.
Critic Reviews for What Lies Beneath
Audience Reviews for What Lies Beneath
½
I love these type of supernatural thrillers, very well made with a strong cast.
Good thriller. Got to admit, it doesn't quite hold up 17 years later, but always liked and still quite enjoy it. The setting of the house is so beautiful. I can tell I'm getting old as it's my first time to fully appreciate that. Haha.
Nicki Marie
Super Reviewer
½
Man this movie dragged for me. I could not stay interested long enough to be interested in the story.
What Lies Beneath Quotes
There are no approved quotes yet for this movie.