What Price Crime
(1935)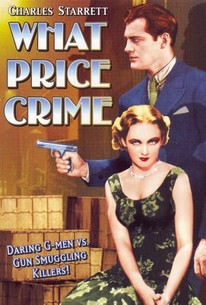 AUDIENCE SCORE
Critic Consensus: No consensus yet.
Movie Info
One of several poverty-row films which vanished from sight during the 1935-36 movie season, Beacon Productions did its best to stay afloat as long as possible with such potboilers as What Price Crime? Future cowboy hero Charles Starrett is cast as G-Man Allan Grey, hot on the trail of a gang of firearms smugglers. Going undercover, Grey poses as an aspiring prizefighter in order to gain the confidence of gang leader Douglas Worthington (Noel Madison). The plot becomes as thick as pea soup when our hero falls in love with Worthington's sister Sondra (played by Virginia Cherrill, previously the blind flower girl in Chaplin's City Lights). Despite its urban setting, much of What Price Crime was economically filmed out-of-doors.
Critic Reviews for What Price Crime
Audience Reviews for What Price Crime
½
This is a real early film noir crime drama. The plot I've seen a hundrend times. Guy cop runs into beautiful girl, falls for her, while working undercover her brother turns out to be the crime boss he has to bust. Film quality from Alpha video as expected, very poor. Alpha video must have made a million off of public domain films being sold for $7.98. This one can be passed up as theres very little here. 2 1/2 stars
Bruce Bruce
Super Reviewer
What Price Crime Quotes
There are no approved quotes yet for this movie.