What Price Glory?
(1952)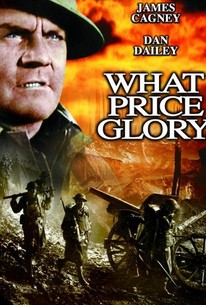 Movie Info
James Cagney signed on to play Captain Flagg in 20th Century Fox's 1952 remake of the 1926 classic What Price Glory after being told that the old property was being converted into a musical. By the time Cagney learned that Fox had no intention of adding songs and dances to the venerable Maxwell Anderson/Laurence Stallings stage piece, it was too late to pull out, so he decided to grin (sometimes) and bear it. Under the direction of John Ford, the potent anti-war message of the original play is blunted, while the drunken rowdiness of Capt. Flagg and his friendly enemy Sergeant Quirt (Dan Dailey) was played for all it was worth and then some. Much of the brawling is over the affections of vivacious barmaid Charmaine, played by Corinne Calvet. Contrasting the rough-hewn hijinks of Flagg, Quirt and their fellow Marines on the fields and in the villages of World War I-era France is the doomed romance between private Robert Wagner and French lass Marisa Pavan. (Why does Wagner get to sing, while Cagney and Dailey do not?) Barry Norton, who played Wagner's role in the original What Price Glory? appears in the remake as a priest. Norton is unbilled, as are such familiar faces as Harry Morgan, Paul Fix, Henry Kulky, and John Ford "regulars" Dan Borzage and Bill Henry. Falling well short of classic status, the Technicolor remake of What Price Glory? is kept alive by the marvelous roughneck rapport between James Cagney and Dan Dailey.
Critic Reviews for What Price Glory?
Audience Reviews for What Price Glory?
There are no featured audience reviews yet. Click the link below to see what others say about What Price Glory?!
What Price Glory? Quotes
There are no approved quotes yet for this movie.