What Price Glory
(1926)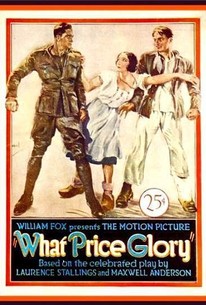 Movie Info
From the minute it opened on Broadway in 1924, Laurence Stallings and Maxwell Anderson's gritty WWI comedy-drama What Price Glory? was a center of controversy. Prudes and blue-noses condemned the play for its explicit language, while a group of politicians tried to bring about a federal action to halt its production because of its "disrespectful" treatment of military officers and traditions. Naturally, any play that engendered that sort of reaction had to be a hit. Two years after its stage debut, the play was adapted for the screen, with Victor McLaglen and Edmund Lowe as those eternally boozing and brawling U.S. Marines, Captain Flagg and Sergeant Quirt. After a prologue in the Orient, in which Flagg and Quirt duke it out over the affections of the saucy Shanghai Mabel (Phyllis Haver), the scene shifts to France in 1918, with the two male protagonists continuing their private war as all hell breaks loose around them. When they aren't blowing the brains out of the Germans, Flagg and Quirt are vying for the attentions of coquettish French girl Charmaine (Dolores Del Rio). The film alternates effectively between low comedy and grim melodrama throughout most of its running time, reaching a dramatic high point when mamma's-boy Private Lewisohn (Barry Norton), fatally wounded, screams "Stop the blood! Stop the blood!" When the smoke clears, Flagg and Quirt both decide to go AWOL for the sake of Charmaine, but when duty calls, the two friendly enemies march shoulder to shoulder towards new adventures. The battle scenes in What Price Glory? were terrifyingly realistic -- indeed, one man was actually killed during filming -- but the most memorable aspect of the picture is the ribald byplay between Flagg and Quirt (who would later be launched into a series of so-called sequels). This being a silent picture, actors McLaglen and Lowe were permitted to mouth any obscenity that came into their heads, allowing audiences in 1926 the spectacle of seeing two grown men hurling epithets that would never have been heard in any sort of polite society -- all the while strictly adhering to the rules set down by the Hollywood censors, who objected only to printed profanities. What Price Glory was unsuccessfully remade in 1952 by John Ford, who directed one scene of the original 1926 version; Barry Norton, who played Lewisohn in the original, appeared in the remake as a priest.
Critic Reviews for What Price Glory
Audience Reviews
There are no featured reviews for What Price Glory at this time.
What Price Glory Quotes
There are no approved quotes yet for this movie.