What Price Hollywood?
(1932)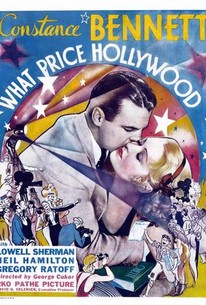 What Price Hollywood? Photos
Movie Info
What Price Hollywood is often referred to as the "first" version of the oft-filmed A Star is Born. While there are strong resemblances between the two properties, Hollywood is in many respects a wholly separate entity. Constance Bennett plays a star-struck waitress who manages to make a good impression on prominent film director Lowell Sherman. With Sherman's patronage, Bennett rises to film stardom as "America's Pal." Sherman is gratified, but he keeps his distance; a chronic alcoholic, he is certain that his inevitable fall from grace will adversely affect Bennett's stardom. Impulsively, Bennett marries wealthy playboy Neil Hamilton, who genuinely loves his wife but is jealous of the demands made on her by her career. Hamilton walks out, but not before Bennett has been impregnated. Turning her attentions to her mentor Sherman, Bennett does everything she can to halt his career downslide, but it is too late. In a startlingly conceived sequence (utilizing slow motion and rapid-fire montage cutting), Sherman kills himself in Bennett's bedroom. When his body is found, the ensuing scandal destroys Bennett's career (represented visually by a life-sized cutout of "America's Pal" shrinking into nothingness). Hoping to heal her emotional wounds, she flees to Paris with her child, where she is reunited with a contrite Hamilton. What Price Hollywood? producer David O. Selznick later claimed that most of the dialogue and situations in the film were drawn from life; he'd make the same claim upon producing the similar (but not identical) A Star is Born five years later. Somewhat perversely, Lowell Sherman based his performance-especially the inebriation scenes-on his then brother-in-law John Barrymore.
Critic Reviews for What Price Hollywood?
Audience Reviews for What Price Hollywood?
½
There are some really nice moments in this film, which mixes a 'behind the scenes' look at the film industry, romantic comedy, and drama. Lowell Sherman, in the role of an alcoholic director, turns in a great performance, and scenes with him towards the end are excellent, though I won't spoil them. Constance Bennett, on the other hand, is hit and miss: she sizzles in a nightclub scene where she croons in French, channeling Marlene Dietrich, but in other scenes she's overly shrill. I'm not a huge fan of movies depicting the inner workings of filmmaking and the difficulties those in the industry face, including early version of the paparazzi here, and the concept of the 'waitress who is discovered' in Hollywood is pretty cliché. Unfortunately, the script is rather shallow, and it's surprising to me that story was nominated for an Academy Award. There are some funny scenes, such as when an interviewer asks if their marriage was for the "thoughtful, reasoning" kind of love, or the "blind, passion, ummph" kind, and when the director pulls the maid into the pool when she too tries to get a few moments with him to audition. There are also some cringe-inducing scenes, such as when Bennett's suitor (Neil Hamilton, who you may recognize as the commissioner from the 'Batman' TV series, 30+ years later) literally force-feeds her on a date, after having carried her to the table (wow, way to get the girl :( Net, it's a mixed bag, not horrible, but not amazing either.
Antonius Block
Super Reviewer
The template for A Star is Born is a good film on its own. While certain scenes reflect the later films the tenure of this is different and the core relationship between the main characters is not a romantic one but one of friendship. Interesting use of imagery to make statements and set moods is dated but done it a way that makes sense within the context of the picture. Solid but the definitive version is still the Judy Garland 1954 starrer.
What Price Hollywood? Quotes
There are no approved quotes yet for this movie.