What Still Remains
(2018)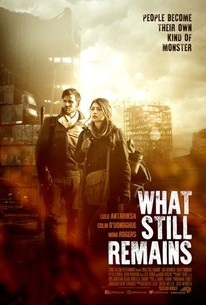 What Still Remains Photos
Movie Info
In a world destroyed by disease, Anna is left all alone after the deaths of her family members. She meets Peter, who is also alone and despite increasing her chance of survival, she must decide if she trusts him when he proposes that she stay with him.
Critic Reviews for What Still Remains
Audience Reviews for What Still Remains
½
Stop me if you've heard this one before. Post-apocalypse. Young teenage woman trying to survive the harsher new world that has been ravaged, seemingly, by war and some sort of disease that, invariably, changes people into zombie-like beings. And, of course, they refer to these creatures as something other than zombies, here they're called The Changed. Funny thing about this movie, though, is the fact that The Changed themselves are an unseen threat. They're talked about throughout the film, but they're never seen. Regardless, this same young woman meets a handsome man. This same man attempts to get this young woman to join his community of people. I mean, really, I didn't see the trailer prior to watching this, but I imagine that it would be really easy for a lot, if not most, people to dismiss this as another YA post-apocalyptic type film, like The Hunger Games, Divergent, Maze Runner, among others. With that said, I did see the trailer (just now) to confirm or deny whether or not it tried to play into this tropes associated with the YA post-apocalyptic genre and I don't know how well they manage to avoid giving in to them. It's definitely a mixed bag, but the point is that I wouldn't be surprised if some people just didn't give this movie a chance based on what they thought it COULD be. That's clearly not fair to the film, but it is what it is. I didn't really know what to expect prior to watching this, but I felt that part of me was probably expecting what I just talked about. Another movie trying to grab a piece of the Hunger Games crowd. Color me surprised when this movie is completely different than whatever reasonable expectation I had. I think the movie, right from the start, does a great job at establishing the tone between Peter's village, who are ultra religious (Peter is also the preacher), and the Berserkers, who pretend to be the Changed for one reason or another. In many ways, while Peter's village may call itself a community, they really are kind of a tribe the same way the Berserkers are. And I just like that concept that, when humanity faces an extinction-level event, the remaining humans sort of revert back to the tribe mentality. The Berserkers are Peter's village have differing rules/ideologies/customs and it's sort of interesting to explore that dynamic between the two groups. The one problem is, however, that you're never really given much context as to what exactly was that happened between the two groups. There's no good side here, Peter's community kills those who turn away from the path of god or, by other words, they decide they've had enough of this weird cult and try to leave. It's kind of like scientology in that way. And the Berserkers are pretending to be Changed as, that way, they believe they're curing the world of this plague. How they are, I don't fucking know, but the movie likes being vague about its own backstory. And that's a shame, because I would have found that really interesting. I don't need flashbacks showing me everything that happened, but more context to give more life to this world would have been greatly appreciated. Of course, however, in the middle of this war between these two tribes for goodness knows whatever reason, is Anna (our lead character) and how she fits into these warring factions/cults/tribes/whatever you wanna call it. I do like how the story, despite seemingly being set up for another zombie-but-not-zombie post-apocalypse movie, focuses more on the human side to that apocalypse. How Peter's village distorts the bible's teachings to justify their own atrocities in the name of the world 'changing', pardon the pun, and Peter's attempt to force Anna to be his 'woman'. The movie is more about the hypocrisy of Peter's group and Anna's attempts to escape this community more than it is concerned about being just another post-apocalypse movie. So I have to give them major props for that, for finding a new angle to tell this type of story. There are, problems, however with Anna. Honestly, I don't think there's really much to her as an actual character. She's shaped by the actions of others. I don't think she ever does something that isn't, in some way, manipulated by someone else. She's like the rope in a battle of tug of war and the groups pulling her arms are the Berserkers and Peter's group. Why is she so relevant to these two groups, I do not know. Well, I mean, Peter wants her as his wife, so that I get. And it's not like they make such a big deal about her, but that's the thing, they never really do anything legitimately interesting with her. I find Anna incredibly bland. And I don't know if that's the character herself, Lulu Antariska's performance or a combination of both. Here's the thing, Lulu's delivery is perfectly good. It's just that she has this expressionless face. It's sort of like you're watching a robot that thinks being a good actor is knowing how to recite lines. Being a good actor is so much more than just knowing how to recite the lines that are in the script. I just don't think that I found Lulu to be that believable as this character. And that's a problem with Peter's group. Peter look like he just came out of a GQ magazine with his hair and whatever. Anna looks like she should star in a CW series. This is ironic since Lulu Antariska actually plays a character on a CW series. They're so unmistakably perfect that it makes it kind of difficult to buy into this as a post-apocalyptic setting. It looked like they had to cut every five minutes to make sure that Colin O'Donoghue's hair was perfect and that Lulu Antariska looked gorgeous. That's not what post-apocalypse is about. And I suppose you could make the argument that Peter's community has been thriving and that cleanness goes along with that, but I just don't like it. It just doesn't let me immerse myself in this world when its two most important characters always look so clean and perfect. That's precisely the thing about the apocalypse, it changes you. Not just mentally, but physically. Anna forges metal for a living and she never one has a MARK on her face as a result of her work. It's just not believable in the slightest. And that breaks the immersion really fucking badly. To the point that I'm considering lowering the score for it. And the thing is that I actually thought this was a good movie until I actually started thinking about how perfect Anna and Peter were, physically speaking, like no bruising, no grime on them, no wear and tear for people that have, essentially, lived their entire lives (in the case of Anna at least) not knowing anything BUT the apocalypse. That's really absurd to me and I really am gonna downgrade my original rating of 3 stars to 2.5. It might seem like a nitpick, but there's nothing that took me more out of this movie than this. It really is immersion breaking. Even without that, however, I mostly found the movie good, but I found it to be lacking in context that would have made the world feel more alive and less purposely and unreasonably vague. Lulu Antariska is an expressionless robot, so that makes Anna, already a bland character in terms of scripting, almost impossible to like. And, to me, the biggest flaw of the movie, which I already discussed at length, was the immersion-breaking perfection of the lead actors. It's shame, really, as they manage to waste a good concept that explores some intriguing ideas. Even if the flaws weren't present, I'd say that this was mostly good and never, at any point, great. But the flaws are still there and I cannot ignore them. Hence why this movie gets an average score. There's a lot of good ideas here, but I cannot, in good conscience, recommend this movie. Watch at your own risk, but I was disappointed.
Jesse Ortega
Super Reviewer
What Still Remains Quotes
There are no approved quotes yet for this movie.