What the Bleep Do We Know!?
(2004)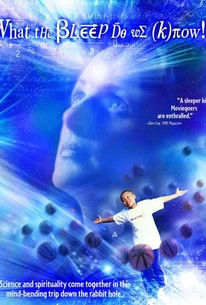 What the Bleep Do We Know!? Photos
Movie Info
Part narrative, part documentary, and part animation, What the #$*! Do We Know?! was filmed with the intent of expressing the neurological processes and so called "quantum uncertainty" of life. With the help of a directorial triumvirate consisting of Betsy Chasse, William Arntz, and Mark Vicente, Marlee Matlin stars as Amanda, whose uninspired daily routine is abruptly altered into a chaotic, Alice in Wonderland-style reality, complete with quirky characters and wildly different perspectives on life. As Amanda falls deeper into the experience, she's forced to drastically reconsider her perceptions of interpersonal relationships, men, and the fundamental principles of life. What the #$*! Do We Know?! is supplemented by a host of mystics and scientists, who are interviewed intermittently throughout the film for their wisdom and knowledge concerning religion, science, the thin line between them, and the consequences of blurring that line. ~ Tracie Cooper, Rovi
Critic Reviews for What the Bleep Do We Know!?
Audience Reviews for What the Bleep Do We Know!?
Don't be fooled by this pseudoscientific garbage that uses misleading information of quantum mechanics to sell some self-help propaganda for a cult without even having the good faith to tell us the identity of its "illustrious" interviewees before the movie is already over.
Carlos Magalhães
Super Reviewer
The theatrical cut of this movie is but a taste. If it stirs your interest, then you must rent/buy the extended version which includes hours of additional footage including interviews, graphical explanations, and dramatic sequences. A nice introductory documentary to the world of quantum physics. Must see for anyone interested in science or philosophy, even if you are familiar with the topics, as the interviewees are fantastic and inject an enthusiastic quality to work as a successful facade for what is essentially a mashed-up (and atypically amusing) lecture.
_kelly .King
Super Reviewer
This film is so cheap and tacky how it expects to discuss it's theories on quantum physics is beyond me. With scenes of sex and some bad language it may seem like this film is aimed at adults. However we are also treated to CGI representation of lust singing Robert Palmers 'Addicted to Love'. This film really is that wank. Represents theories as facts, and ties together some interesting interviews with a fictional sub-plot about some deaf woman which just happens to demonstarte everything being said. This is the same stuff you find in those self-help books but done in a much more patronizing manner. As entertainment it sucks, as a documentary it blows and as an enlightening doorway into a new vast realm of thought...it can fuck off.
Luke Baldock
Super Reviewer
What the Bleep Do We Know!? Quotes
There are no approved quotes yet for this movie.