What to Do in Case of Fire (Was tun, wenn's brennt?)
(2001)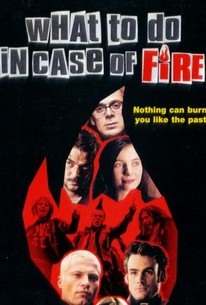 What to Do in Case of Fire (Was tun, wenn's brennt?) Photos
Movie Info
What to Do in Case of Fire is a stylish German comedy from director Gregor Schnitzler. A 20-year-old bomb goes off in an abandoned mansion in present day Berlin, and all the evidence implicates a a group of anarchists that planted the explosives in the late 1980s . By this time, however, most of the original group have become hip urban professionals who don't want to be associated with revolutionary activity. With the police hot on their trail, they reunite for the first time in 12 years to plot a scheme to avoid jail. Starring Til Schweiger, Martin Feifel, and Sebastian Blomberg.
Critic Reviews for What to Do in Case of Fire (Was tun, wenn's brennt?)
Audience Reviews for What to Do in Case of Fire (Was tun, wenn's brennt?)
I enjoyed this movie. The fact alone that a major studio in Germany would back a movie about old friends (who were anarchist squatters no less) who reunite after an old forgotten bomb goes off, in order to cover up their misdeeds and attempt to "get away with it" is amazing! The story, music, and characters are all fast-paced. Very enjoyable.
Cynthia S.
Super Reviewer
½
[font=Century Gothic]"What to Do In Case of Fire" begins in 1987 when a group of six anarchists plant a bomb in Berlin. The bomb goes unexploded until 2000 when it goes off, injuring two. The police crack down on all of the leftists in Berlin(but none of the fascists?) and raid the squat where two of the group, Tim and Hatte, still reside. They confiscate an awful lot of evidence, including incriminating film of them making and planting said bomb.(The film was made to show their intended progeny what such badasses they were in their youth.) At which point, Poland is starting to look pretty good...but Tim and Hatte decide to recruit their former comrades in a daring plan to liberate the film from police headquarters before the cops have a chance to view it...[/font] [font=Century Gothic]"What to Do In Case of Fire" gets off to a fun, engaging start but then ends up being just another bit of feel good manipulation. The movie is a shallow take on radical activists, rarely mentioning politics at all and not even bringing up what the group was hoping to achieve. And leftists may mellow once they leave the movement, but they usually either still try to help people or work within the system to change it. The activism does not entirely leave their systems.[/font] [font=Century Gothic]Note: Not all anarchists plant bombs. Some of us are pacifists. And there are some anarchists who are even nice and cute.[/font]
What to Do in Case of Fire (Was tun, wenn's brennt?) Quotes
There are no approved quotes yet for this movie.