What's Opera, Doc?
(1957)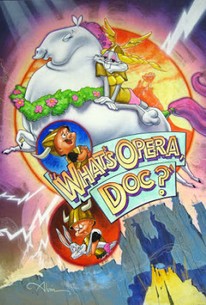 AUDIENCE SCORE
Critic Consensus: No consensus yet.
Movie Info
One of the most beloved of all Warner Brothers cartoons, What's Opera Doc? re-imagines the Elmer Fudd versus Bugs Bunny conflict as a German opera, complete with expressionist sets, tragic romance, and a majestic chorus of "Kill the wabbit!" Director Chuck Jones and writer Michael Maltese combine the usual wisecrack humor with a real appreciation of the classical form, crafting a loving parody of Wagner's Ring Cycle that manages to condense the massive four-opera work into a single, seven-minute story of a hunter, a rabbit, and a spear and magic helmet. Elmer takes on the Siegfried role, planning to use the magic armor to capture the rabbit. However, Bugs, as always, has countless schemes to foil Elmer -- including posing as his true love, the warrior maiden Brunhilde. When Elmer discovers this deception, however, he uses the full force of his magic to call up the power of the weather -- including winds, hurricanes, and the worst horror of all, smog. But for a few comic asides, all the dialogue is sung. Brilliant voice characterizations, wonderfully designed backgrounds, and smart writing all combine, under Jones' guidance, to create a hilarious classic.
Cast
Critic Reviews for What's Opera, Doc?
Audience Reviews for What's Opera, Doc?
½
This short, one of the greatest Looney Tunes, by Chuck Jones and Michael Maltese is on the National Film Registry. Uses several of Wagner's opera compositions to re-imagine Elmer Fudd's never-ending pursuit of Bugs Bunny. The expressionist set and hilarious visuals are excellent. I just wish it was longer than seven minutes. I'm so glad I was able to share it with my wife, who didn't know what I was talking about when I sang, "Kill the wabbit! Kill the wabbit!" Somehow she missed this as part of her childhood.
Byron Brubaker
Super Reviewer
Delirious,blasphemous and yet ravishingly innovative! Inspired by the likes of slapstick stars,musical numbers (did i forget to say the obvious William tell reference),there's not exactly a happy ending rather a diversion of functioned tragedy...and Mel Blanc drives the vehicle of lunacy! Rossini would have loved this for sure.
Dimitris Springer
Super Reviewer
What's Opera, Doc? Quotes
| | |
| --- | --- |
| Elmer Fudd: | I will do it with my spear and magic helmet! |
| Bugs Bunny: | Your spear and magic helmet? |
| Elmer Fudd: | Spear and magic helmet! |
| Bugs Bunny: | Magic helmet? |
| Elmer Fudd: | MAGIC HELMET! |
| Bugs Bunny: | [aside to audience, cynical] Magic helmet. |
| | |
| --- | --- |
| Elmer Fudd: | [to Ride of the Valkyries] Kill da wabbit! Kill da wabbit! Kill da wabbit! |