What's the Matter with Helen?
(1971)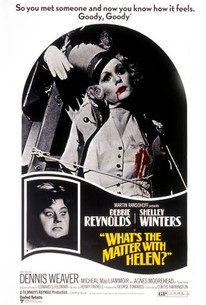 What's the Matter with Helen? Photos
Movie Info
When two women move to Hollywood to set up a school for talented children, their pasts follow them. Both women's sons were murderers, and just when the women seem to have adjusted to their new lives and left the past behind, strange things begin happening to them.
Critic Reviews for What's the Matter with Helen?
Audience Reviews for What's the Matter with Helen?
Not exactly what I expected. The thriller element was not well presented, not exactly a drama either. I enjoy the dance, sure, but that's all there is. The psycho biddy element was down played. However, I liked the twist at the end.
Sylvester Kuo
Super Reviewer
Starts out strong, drags in the middle and ends strong. I don't particularly like the DVD cover, which gives away the ending a bit, but it's not altogether uninteresting. I felt that the tap-dancing scenes with the kids should have either been cut in half or cut out altogether as they had really nothing to do with what was going on. There's too much lag time in the middle with no tension build-up. However, the everything around that works well. If only the middle part had been as good as the rest.
Tim Salmons
Super Reviewer
More a drama with suspense elements than a horror film. Debbie looks like a million and Shelley gives a good performance in the beginning until she starts biting off large pieces of the scenery towards the end. Enjoyable overall.
What's the Matter with Helen? Quotes
There are no approved quotes yet for this movie.