What's Up, Tiger Lily?
(1966)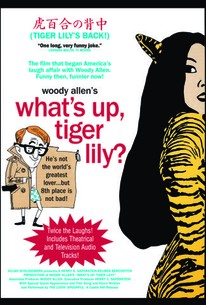 Movie Info
Woody Allen took a Japanese spy movie called Kagi No Kagi, and replaced its original dialogue with an entirely new plot. In its revised state, this film follows the adventures of agent Phil Moskowitz who is on a deadly mission to secure the recipe for the "world's greatest egg salad." However, Moskowitz, with the help of the beautiful Suki and Terri Yaki, must prevent this unique recipe from falling into the hands of the evil Shepherd Wong. The group Lovin' Spoonful recorded the majority of the songs for this film.
Critic Reviews for What's Up, Tiger Lily?
Audience Reviews for What's Up, Tiger Lily?
Woody Allen's directorial debut was an interesting experiment at the time: redubbing International Secret Police: A Barrel of Gunpowder and ISP: Key of Keys (two pre-existing Japanese James Bond-esque films) with comedic English dialogue (a definite early precursor to Mystery Science Theater 3000). The film on screen, of course, is utterly ridiculous, and Allen conjures up some good lines such as, "It's a great film! It's got rape and looting," and "I have nude pictures that I will send to every grade school in Tokyo. Unless you're confident with your body, you're in for trouble", and there's even some clever participatory lines such as "Applaud so the gun will magically have more bullets," but the novelty wears off pretty quickly. In the end, it's hard to escape the fact that, even with the new dialogue, an audience still has to sit through the movie on screen. There are some awkward and bizarre musical interludes from The Lovin' Spoonful (which happened without Allen's consent, and propelled him to insist on musical control over his films) and their inclusion, both sonically and visually, is completely nonsensical. It appears as if he and his collaborators had a few good ideas here and there, but sporadic ideas does not a movie make.
Jonathan Hutchings
Super Reviewer
After writing and appearing in the film, "What's New Pussycat?", Woody Allen was approached by producers to write an english language dub of the japanese spy thriller "International Secret Police: Key of Keys". He agreed to do it, but only if he could re-work the storyline, which now centers around a group of spies pursuing the "world's best egg salad". Yes, I know it sounds wacky, but those expecting Allen's usual satirical wit will undoubtedly be disappointed, as it's a far cry from his films from the 70s. Still, I got quite a few chuckles from it, and there were certain scenes that out and out cracked me up. I also enjoyed the incongruous appearance of The Lovin' Spoonful, even if they were added later without Woody's consent. It's definitely a unique film experience, and probably the first of it's kind.
Devon Bott
Super Reviewer
½
Good, a little strange, but funny.
Jennifer D
Super Reviewer
What's Up, Tiger Lily? Quotes
There are no approved quotes yet for this movie.