What's Your Number?
(2011)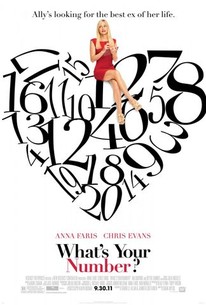 What's Your Number? Photos
Movie Info
Anna Faris is Ally Darling, who after reading a magazine article that leads her to believe she's going to be forever alone, begins a wild search for the best "ex" of her life. -- (C) Official Site
News & Interviews for What's Your Number?
Critic Reviews for What's Your Number?
Audience Reviews for What's Your Number?
I was VERY surprised by this movie! I thought it was adorable, and the way Anna Faris delivers some of her lines is just hysterical! Yes, there was some crude language, and some near naked people, but it was done tastefully, in my opinion (and funny). There are alot of very endearing, and touching moments. I found this VERY enjoyable...
Cynthia S.
Super Reviewer
Anna Faris once again proved that she firmly chose herself to be a rom-com actress with this movie.. Her performance just look the same like she always did in her previous movie, so nothing new for her.. While for the main actor, I'm really surprised to see the name of Chris Evans there.. In his busiest year for becoming the hero of America that been featured in two movie title : 'Captain America : The First Avenger' and 'The Avengers', he can still make time to make a rom-com movie which is his specialty because he got famous the first time when he featured in 'Another Teen Movie'.. For the story itself, ordinary and nothing special but still enjoyable to be watched.. Overall, it's a light rom-com that would be a good choice to be watched in your spare time if you already got bored with all Katherine Heigl's or Jennifer Aniston's..
Sanjaya 丘耀文
Super Reviewer
½
Ally's looking for the best ex of her life. 600D This is a really fun chick-flick. It may seem really bad at first, but if you just lefty yourself enjoy it you will realize its funner than you think. Ally(Faris) realises she has slept with more men than double the average American women. She realizes that she will end up lonely and in order to get married she needs to find one of her ex's. She hires Colin (Evans) to help her out, but they eventually start falling deeply in love with each other. The movie has a very predictable storyline, and the acting may seem average (even though I love Anna Faris), but still under those circumstances the movie proofs to be a good film. Definitely shows you a good time, has awesome cameo's and really fun laughs. Ally Darling: " My husband is in the north pole. He's a scientist too. He's dealing with the whole ice cap situation. Yeah. He's probably going to fix it."
Pedro Holanda
Super Reviewer
What's Your Number? Quotes
| | |
| --- | --- |
| Ally Darling: | The next guy who vacations at Casa Esperanza is going to be my husband. To taking control of my own destiny! |
| | |
| --- | --- |
| Boyfriend Rick: | I don't know, it just seems kind of serious. |
| Ally Darling: | I'm sorry. It just um...felt kind of serious last night when you were doing me from behind, but I couldn't see your face, so. |
| Ally Darling: | I'm sorry. It just um...felt kind of serious last night when you were doing me from behind, but I couldn't see your face, so... |
| | |
| --- | --- |
| Ally Darling: | I'm happiest when I'm being myself and I'm myself when I'm with you |
| Ally Darling: | I'm happiest when I'm being myself and I'm myself when I'm with you. |
| | |
| --- | --- |
| Ally Darling: | Being in love means being yourself. |