Wheels on Meals (Kuai can che) (Powerman) (Weapon X)
(1984)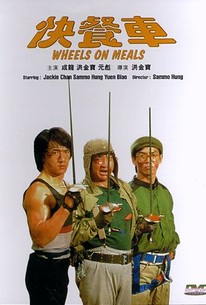 AUDIENCE SCORE
Critic Consensus: No consensus yet.
Wheels on Meals (Kuai can che) (Powerman) (Weapon X) Photos
Movie Info
Following up from their success with Project A, martial arts-comedy trio Jackie Chan, Sammo Hung, and Yuen Biao head out to Spain for this screwball kung-fu flick. Thomas and David (Chan and Yuen) run a Chinese lunch wagon in the streets of Barcelona. One day, David encounters a beautiful pickpocket named Sylvia (Lola Forner, who also appeared in Armor of God) and he is immediately smitten. Meanwhile, inept private dick Moby (Hung) is tracking down the illegitimate daughter of a dead count. If the woman can be found within two weeks after his death, his vast riches go to her. If not, then her evil stepbrother gets the goods. Of course, Sylvia turns out to be the missing heiress. And naturally her evil step-brother has sent out a bevy of goons to insure his inheritance while David, Moby, and Thomas vow to protect the lass. The film was originally going to be called "Meals on Wheels" until studio head Raymond Chow, after the utter failure of his 1982 opus Megaforce, vowed never to have a film that began with an "M." ~ Jonathan Crow, Rovi
News & Interviews for Wheels on Meals (Kuai can che) (Powerman) (Weapon X)
Critic Reviews for Wheels on Meals (Kuai can che) (Powerman) (Weapon X)
All Critics (4) | Top Critics (1) | Fresh (2) | Rotten (2) | DVD (1)
Contains some of the most brilliantly absurd dubbing you're likely to hear.
Still one of the technically proficient martial arts films ever made. It's just too bad there's not much to it beyond the martial arts.
Audience Reviews for Wheels on Meals (Kuai can che) (Powerman) (Weapon X)
13/06/2010 (ONLINE) This is a little old but its not a bad check. I'm always entertained by "Jackie Chan" and when you throw in "Sammo-Hung" and "Biao Yuen" then of course its going to be fun and silly, mostly silly. The good news is that it has a generous amount of kick butt action, I've seen better lately but remember, it was made in 1984, 24 years ago! A nice comedy flick that comes with kicks!
EightThirty .
Super Reviewer
If you're a Jackie Chan or have been a Hong Kong film fan for any real period of time, then the chances are you've already seen Wheels On Meals. This is one of those classic eighties action-comedies that HK produced rather well. It has the magic of the three brothers: Jackie Chan, Sammo Hung and Yuen Biao. I think I must have said the word "idiots" while laughing at least 20 times while watching. This is also the film that has the now legendary Jackie Vs Benny Urquidez fight. They fought again in Dragon's Forever, but it's the fight in Wheels On Meals that has to be one of the top fight scenes ever. It's really intense and both get to show some excellent moves as well as some lightning speed. Sammo and Yuen Biao also get to shine in the action scenes. Yuen Biao's fight against Keith Vitali is almost as great as the Jackie Vs Benny fight, getting to show off some of his gymnastic skills as he flips and rolls around rooms in a mansion. Unless you just can not stand martial arts films, there's no way in hell this movie won't entertain from beginning to end. It's not a perfect film and some parts, along witht he story seem to fall flat, but the comedy and incredible (an understatement) fight scenes make this one a worthwhile investment.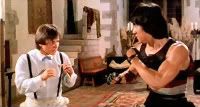 El Hombre Invisible
Super Reviewer
Cool Hong Kong-style car chases, kung fu and stunts on the Coasta Brava.
Dean McKenna
Super Reviewer
Wheels on Meals (Kuai can che) (Powerman) (Weapon X) Quotes
There are no approved quotes yet for this movie.