When a Killer Calls
(2006)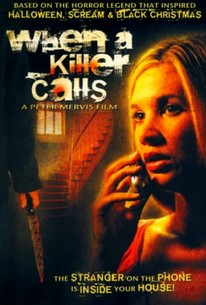 AUDIENCE SCORE
Critic Consensus: No consensus yet.
Movie Info
A young babysitter prepares to fight for her life upon discovering that the prankster harassing her on the phone is watching her every move.
Critic Reviews for When a Killer Calls
Audience Reviews for When a Killer Calls
An extremely amateurish rip off of When A Stranger Calls but unlike the well filmed, atmospheric remake of the 1970's chiller this one has balls. Right from the beginning of the film it has the feeling of unease and dread with brutal and effective yet generic kills that were disturbing and gutsy. This movie has a very visibly low budget and less than impressive acting that were the movie's downfall but the body count was decent and the killer was sadistic and stopped at nothing to bring fear to this poor babysitter and the stalk sequences though handled in a silly amateurish way did bring some suspense and creepyness to the film enough to make you look over your shoulder especially if you watch it alone in your home. The acting was beyond atrocious thanks to a horrible script and unoriginal story but towards the end it seems like everyone tried their best to step up their game which led to an effective, harrowing finale which might make you think twice about babysitting. Overall it's obviously a ripoff, unoriginal, flimsy but its brutality, creepyness and ballsy nature will creep under your skin, sure it wasn't amazing but as a generic rip off of stalk and slash it isn't half bad. Rent it. Have zero expectations, leave your brains at the door, grab some popcorn and enjoy. 6 out of 10
Matt Slash
Super Reviewer
When a Killer Calls Quotes
There are no approved quotes yet for this movie.