When Did You Last See Your Father?
(2008)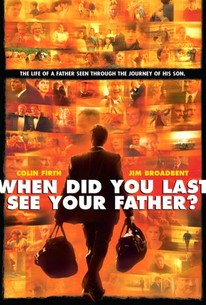 TOMATOMETER
AUDIENCE SCORE
Critic Consensus: Sensitive to a fault, Tucker's adaptation of the Morrison novel is nonetheless solidly scripted and well-acted; guard your heartstrings.
When Did You Last See Your Father? Photos
Movie Info
Adapted from poet Blake Morrison's best-selling memoir by screenwriter David Nicholls and directed for the screen by Anand Tucker, And When Did You Last See Your Father? explores -- like its source material -- the complex, manifold emotional layers of a father-and-son relationship as it shifts and evolves over the passing decades. At the film's center is Blake Morrison himself, who for as long as he can remember has lived in the overarching shadow of his physician father, Arthur (Jim Broadbent) -- falling prey to feelings of embarrassment from the old man, as well as occasional awe. In the 1950s, when Blake (Bradley Johnson) was a child, the boy watched as Arthur partook in socially uncouth behavior such as wheedling his way into clubs to which he didn't belong, and carrying on an extramarital affair with the full knowledge of his wife, Kim (Juliet Stevenson). As the years passed, teenage Blake's (Matthew Beard) discomfort around his father hardened into resentment -- particularly when the adolescent boy expressed interest in a girl, Rachel (Carey Mulligan), who clearly preferred his father; compounding the situation, Blake then had to suffer through Arthur's decision to publicly humiliate his son in front of everyone. The central dynamic has changed for the two, however, by the late '80s, when Blake -- now married to Kathy (Gina McKee) and freshly established as a successful novelist and poet -- learns that Arthur has contracted terminal cancer. Now, the junior Morrison takes a headfirst plunge into the memories and recollections of his youth -- and grapples with the dynamic of his relationship with Arthur for the first time in his life as he comes face to face with the need to provide loving care for the old man.
News & Interviews for When Did You Last See Your Father?
Critic Reviews for When Did You Last See Your Father?
Audience Reviews for When Did You Last See Your Father?
½
It's hard to come to terms with seeing your parents as they are as human beings instead of parents. Then having to deal with losing one of them forever at the same time. Well acted...
Leigh Ryan
Super Reviewer
"When Did You Last See Your Father?" is a thoughtful, yet insubstantial, movie about why we should always appreciate our parents and never take them for granted, especially before it is too late. Case in point: Blake Morrison(Colin Firth), a poet, whose father Arthur(Jim Brodbent), a doctor, even embarrasses him as an adult, chatting up Salman Rushdie at an awards banquet(Wait a sec. Wasn't Rushdie in hiding in 1989? And that cell phone is all wrong for the year.) and wondering aloud if his son could not have found a more practical profession. However, naming him Blake pretty much guaranteed this.(Or he could have ended up a film director or a freedom fighter, I suppose.) Things take a serious turn when Arthur is diagnosed with cancer and given little time left, forcing Blake to recall what life was like when he was a teenager(Matthew Beard), blaming his lack of sexual activity on his father, turning the cliched father-son relationship on its head which has a tendency to be generational in popular fiction. In fact, Blake's reseveredness bordered on downright uptightness(and accompanying literary snobbishness) conflicts mightily with Arthur's outgoing demeanor which allowed him to enjoy adventures, so he could have stories to tell at the dinner table. At the end, I am left wondering what kind of father Blake turned out to be.
"A parent and a child. The past and the present. Memories and secrets. Can you know someone for a lifetime.... and not know them at all? The life of a father. Through the journey of a son." As poet Blake Morrison (Colin Firth) visits his dying father (Jim Broadbent), he remembers the feeling of being overshadowed by his gregarious dad. Blake's conflicted memories roam back and forth through the 1950s, the '60s and then the late '80s , the last in which Blake is a married man with a career of his own. Review Blake Morrison's memories are served for public consumption in a respectful but slightly confused rendition. Jim Broadbent delight us, once more, with his overgrown child of a father that seems a figment of her son's imagination. His childishness seems to be his only flaw. I couldn't help but being reminded of Tim Burton's "Big Fish" this time, with radically different flights of fancy. Colin Firth plays the writer/son as a crashing bore. Was that on purpose? I've been longing to see Firth again in parts like the ones he so amazingly captured - "Apartment Zero" comes to mind. Here earnest or not earnest, loving, selfish and so forth I didn't quite get myself interested enough to care as much as I feel I should have. Matthew Beard, the younger Blake and Juliet Stevens as the mother, manage to create more intriguing characters. The film, however, belongs to Jim Broadbent - His character is a loving mix of assorted British loving eccentrics. The fact that this is the way her son Blakes remembers him, makes the experience worth while.
Lorenzo von Matterhorn
Super Reviewer
When Did You Last See Your Father? Quotes
| | |
| --- | --- |
| Arthur Morrison: | Moment of truth. Let there be light. All right. What's next then? |
| | |
| --- | --- |
| Blake Morrison: | Please Dad, stop breathing. Just stop. If you can't come back as you were, just go. |
| | |
| --- | --- |
| Arthur Morrison: | We all have to die sooner or later. When our time's up, our time's up. |
| | |
| --- | --- |
| Kim: | He has every petrol receipt since 1949 in there. |