When Dinosaurs Ruled the Earth
(1971)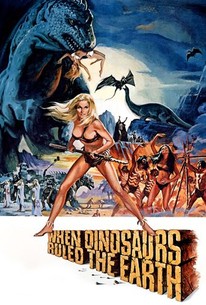 Movie Info
Sanna (Victoria Vetri), a beautiful blonde woman, is condemned to death when she is blamed for a sudden aberration of the sun. Fortunately, the girl is rescued by fisherman Tara (Robin Hawdon), a member of the nearby Sand Tribe, but Sanna's presence infuriates Tara's girlfriend Ayak (Imogen Hassall). While others run from the carnivorous dinosaurs, Tara trains one of the beasts who believes she is one of her offspring. A typhoon leaves four survivors to fight for survival in this prehistorically inaccurate science fiction story.
Critic Reviews for When Dinosaurs Ruled the Earth
Audience Reviews for When Dinosaurs Ruled the Earth
½
The third film by Hammer revolving around cavemen and women and occasionally dinosaurs. Before this was the first and most well known film with Harryhausen effects...'One Million Years BC', then came the sordid sounding 'Slave Girls'. I'm not overly sure why they made this film as its pretty much the same spiel as their first and best film 'One Million Years'. The plot is almost the same really, there is one tribe of caveblokes that are a bit sacrifice happy with their blondes and one tribe that are a bit more normal and haven't seen blonde haired women much it seems (yep blondes are a rare breed in these films). A sexy big breasted blonde escapes the nasty tribe and is found by the good tribe, there she falls in love with a cavebloke which upsets his other cavegirlfriend. The blonde is hounded and chased off but pursued by the nice cavebloke who loves her. All the while the bad cave tribe are also looking for the escaped blonde for some reason, all this leads to much death at the hands of dino's and a big tidal finale...for some reason. That is the plot but like the other films in this series its kinda tricky to follow it as everyone speaks in genuine caveman grunts. Yep its that approach again which Hammer really seemed to like back then, lots of scantily clad women with big breasts and a nonsensical dialog of grunts. Well actually the primitive language is suppose to be made up of genuine ancient dialect's of Phoenician, Latin, and Sanskrit sources, so I guess its quite clever really. Problem is all we ever seem to hear is 'akita' 'yo kita' and 'neecro', I swear if I hear one more damn caveman/women say 'akita' I will flip!!. For me this film is all about the dinosaurs, the plot is too similar, the acting is terrible and the dialog is annoying, only the big breasted cavewomen make it worth while. But the stop motion dinosaurs are awesomely done and actually look really good. The first thing I noticed was the movement on these models, its really really detailed and displays even the smallest skin movements. Sure they are a bit jerky when walking in full motion but their eyes and head movements are great, best example is the unknown dino that befriends 'Sanna' the blonde cavewoman. There are some other nice creatures too including some quite evil looking giant crabs, a nice sea monster moment, a bulky Chasmosaurus and a man eating plant hehe. Unfortunately they do spoil things by using dino footage from 'One Million', even worse they use crappy footage of two real reptiles with stuck on fins/scales fighting, no no no no. The films title is pretty cool, gets you interested and the idea is reasonable but they made 'One Million' four years prior so what was the point?. I just get the feeling they wanted to remake the Welch flick but with better dino effects. I'm not even sure which is better really, 'One Million' is more iconic of course but this has better model work and that's without Harryhausen!. Really I can only recommend this for the excellent dino stop motion models, if you are a Harryhausen/dinosaur/giant creature fan then you will enjoy parts of this film. The rest is complete dross and highly boring, there I said it.
Phil Hubbs
Super Reviewer
½
Wow, what a corny cheesy movie! This is such a silly concept to start with that it could've been slightly more fun if it didn't take itself seriously at all. Tribesmen offer blondes (yes, hair color racism right there) to the sun, since there's some sort of curse on it. It's all very vague because everyone talks on a cave men language that sound like babies talking to one another. Not sold yet? How about cheesy stop motion dinossaurs, cave men romance and skimpy leather bikins? Come on... It's a nice one to watch with your friends, to play a game of "did I spot a nipple right there". Seriously, those furkinis couldn't be any tighter if they tried to.
Francisco Godinho
Super Reviewer
½
Directed by Val Guest and staring Victoria Vetri, Robin Hawdon, Patric Kingsor. Eirin Rating- PG-12 [IMG]http://i53.tinypic.com/23i9fnm.jpg[/IMG] I think it needs more then what it has got main reason why I say this is because of all the epic effects production designs that just make one fantastic movie. Sure it's not as good as 1 million years B.C. but I still liked this. Also I decide that I would import pictures. Set in a non-existant past when humans and dinosaurs lived together, a small tribe is struggling to survive by giving a sacrifice of a blond woman to their gods in return for protection from the giant lizards looking to snack on them. Sanna, one of the sacrificial offerings, finds herself on her own when a freak storm interrupts the ceremony. As she searches for a safe haven she encounters hostility from rival tribes and lots of huge and very hungry dinos. I have seen its rating and I really disagree this movie is epic and nothing short of it. I liked the people, dinosaurs, visuals, music, and settings. Frankly this film was the benchmark for realistic and extremely believable stop motion animation. [IMG]http://i54.tinypic.com/2yl4jg0.jpg[/IMG] 90% for story: It might have its flaws but I really liked it, still not as good as 1 million years B.C. 85% for acting: You don't get much out of them but they do give you a great performances in there roles. 100% for special effects: They are the breakthrough in film, but these stop motion dinosaurs are awesome to watch and look at, really some of the best I have seen. 85% for characters: There awesome most of the time, but some are better then others. 100% for everything else: This is only one movie James Cameron would only dream of making if he did avatar right. I can heavily recommend this and I think every body should see it sooner or later. Keiko's score 90-100
When Dinosaurs Ruled the Earth Quotes
There are no approved quotes yet for this movie.