When Nietzsche Wept
(2007)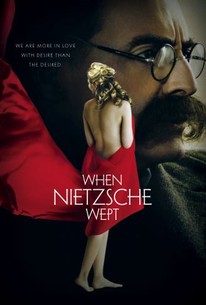 AUDIENCE SCORE
Critic Consensus: No consensus yet.
When Nietzsche Wept Photos
Movie Info
Set in the year 1882, director Pinchas Perry's adaptation of Irvin D. Yalom's fictional 1992 novel finds a depressed Friedrich Nietzsche seeking out the advice of pioneering psychoanalyst Josef Breuer for help in battling mental malaise.
Critic Reviews for When Nietzsche Wept
Audience Reviews for When Nietzsche Wept
The cinematography is that weird cheap kind that makes the movement of the actors look strange. Nevertheless, Armand Assante plays the heck out of Friedrich Nietzsche and Ben Cross plays what I'd imagine a Josef Breuer would be like. What this movie is, by the way, is a fictionalized account of what would have happened if Breuer, the forerunner to psychoanalysis, and Nietzche met. Even though it never happened, it draws parallels between the goal of psychoanalysis, freeing a patient up to realize what his or her unconscious desires are, and Nietzsche's philosophy, which is something like choosing to live one's life like every day would be repeated, daring to live one's life dangerously and boldly. Not a bad story, and really one of a kind.
Billie Pritchett
Super Reviewer
½
I was really energized by this movie. Waxing philosophical on college days of reading multitudes of well worn copies of several philosophers on in summer on lake Mendota. Warning this movie does not hold up as a strictly period piece or philosophical treaties if your looking for either don't look here. This should be filed more appropriately in the romance/marriage pop self help section. Ben Cross Dr. Breuer hold up this movie himself. Playing a 18th century physician at the top of his game. He's is approached Katheryn Winnick to help Nietzche after she spurned his marriage proposal. As a ruse to keep helping Nietzsche, Dr Breuer asks Nietzsche to help him deal with his own existential crisis. The resolution of Dr Breuer crisis is empty, but the path is very interesting. Katheryn Winnick is cast as Lou Salome a Russian writer. While very enjoyable to see she drops the movie to the level of some 90210 movie. I fully expecting Armand Assante to slip into his standard "Ned Ravine" persona from Fatal instinct, But his red contacts and mustache must have helped him stay the stoic course. Surprising the movie centers more around Br. Breur's existential crisis. Dr. Breuer Friend is Jamie Elman "Ziggy" Freud. On a level, I choose to ignore, this movie tries to be a "Connections" where several great minds cross paths and change history. It doesn't work, James Burke does it better. I really wanted to read this book when I first saw it in the Mid 80's, but never had the time. I read several other reviews before I wrote one, they basically fell into two categories: The movies not as good as the book. I hope your imaginations is better than a 2 dimensional 104 minute representation on a budget. Nietzsche is evil Yes he is. Don't watch this and keep chewing on your Cud.
Bill Cavros
Super Reviewer
armand assante does what he can best, but the story is uneven and the drama doesn't play out to the audience's expectations. a fair effort but really hard to live up to the hype of the book.
Anastasia Bartzoulianou
Super Reviewer
When Nietzsche Wept Quotes
There are no approved quotes yet for this movie.