When the Bough Breaks
(2016)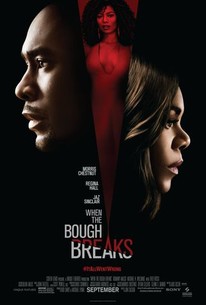 TOMATOMETER
AUDIENCE SCORE
Critic Consensus: Shallow, clichéd, and silly instead of suspenseful, When the Bough Breaks offers nothing domestic thriller fans haven't already seen before -- and done far better.
When the Bough Breaks Videos
When the Bough Breaks Photos
Movie Info
John and Laura Taylor (Morris Chestnut and Regina Hall) are a young, professional couple who desperately want a baby. After exhausting all other options, they finally hire Anna (Jaz Sinclair), the perfect woman to be their surrogate - but as she gets further along in her pregnancy, so too does her psychotic and dangerous fixation on the husband. The couple becomes caught up in Anna's deadly game and must fight to regain control of their future before it's too late.
News & Interviews for When the Bough Breaks
Critic Reviews for When the Bough Breaks
Audience Reviews for When the Bough Breaks
The best thing that I can say about this film is that it's so bad, it's good as long as you treat this film as a comedy and not a thriller. So many tropes we have seen in other films such as Obsessed, The Perfect Guy, and No Good Deeds...and they are all bad. The characters don't think or act like real people. The drama is artificial and turned up to 11. Not to mention logic is pretty much left at the door with your coat. If you start asking questions like: How did a lawyer not know basic surrogate rights? How could a court back someone who is clearly a danger to a child? Or How did a detective figure out what a major organization could not? Honestly, you are doing too much. If you are not watching 'When the Bough Breaks' for it's amusing disregard for common sense my only question for you is, Why are you watching this?
Jacob Smith
Super Reviewer
½
It is evident from the word go that When the Bough Breaks is campy trash, but the most critical question campy trash always has to answer is whether or not it's fun campy trash. Director Jon Cassar has worked on many a television series which makes sense because When the Bough Breaks is very much along the lines of what the Lifetime network routinely produces. Everything feels rather staged and mostly inauthentic save for a single character who seems to be the only one in this universe within which such movies as this take place that understands real struggle while everyone else walks around-money being no object-without a care in the world. One might think, given these circumstances, that When the Bough Breaks might be a bit of a relief to the onslaught of tentpoles and big-budget/high concept offerings the summer movie season has just delivered in that it is (technically) an original story that remains just familiar enough to attract the necessary audience to justify its existence-not to mention it's a movie mostly made to cater to adults. And yet, this familiar story of seduction offers nothing new by way of cheap thrills or even openly ridiculous tension. Rather, Cassar's film takes itself so seriously and genuinely yearns to be a somber drama that it just turns into a plodding and rather boring affair instead of pure trashy fun. That the film doesn't bother to have any fun with its otherwise farcical tone is a shame as trying as hard as the film does to come up with credibility when all they have is camp only makes the final product that much worse. To those points, When the Bough Breaks is a movie that will take more heat for what it stands for and represents rather than the actual content in produces. This meaning that the pieces are in place-Morris Chestnut and Regina Hall are seasoned veterans of this type of melodrama (unfortunately) and audiences can go through the motions of the film knowing the story beats that will clearly be hit and yet despite all of this being somewhat blatant rip-offs of other movies we've seen over the years both Chestnut and Hall as well as newcomer Jaz Sinclair are each more than capable of pulling anxiety and tension out of the situations they're characters find themselves in. Still, When the Bough Breaks is overall a lazy if not competent thriller that could have just as effectively been directed by a board room as it has been a man for hire like Cassar. read the whole review at www.reviewsfromabed.com
Philip Price
Super Reviewer
Detrimentally Obsessed with The Perfect Guy from Lakeview Terrace such that it amounts to a No Good Deed, this umpteenth urban take on Fatal Attraction plays out like an archly melodramatic TV Movie-of-the-Week on the big screen. Sure, Jack Olsen's script tweaks the formula a bit, offering up the woman paid to carry a couple's baby as the aggressive villain-type and giving her a sympathetic air. Trying to sell us the Brooklyn Bridge nugget of a plotpoint that her abusive boyfriend manipulated her into becoming a psycho only complicates an uncomplicated concept, however. This is a one-dimensional thriller and she's a criminally insane baby mama-nobody's feeling sorry for her, only themselves for wandering into this flick. In this PG-13-rated thriller, a surrogate mom (Jaz Sinclair) for a couple becomes dangerously obsessed with the soon-to-be father (Chestnut). Think of it as The Heavy Hand that Rock the Cradle. She traipses around in very little clothing and compromises a stalwart family man's marriage, all the while threatening to keep or even - gasp - harm their baby. While some of these scenes could possibly elicit thrills, director Jon Cassar feels obliged to soundtrack these specific moments with an overpowering cacophony meant to hammer home the point that this is an ominous moment...as if all involved know that the story itself is incapable of doing this. Such histrionics quickly turn this intended thriller into a comedy, breaking balls when it should be breaking boughs. Bottom line: Crock-a-Bye Baby
When the Bough Breaks Quotes
There are no approved quotes yet for this movie.