When We Were Kings
(1996)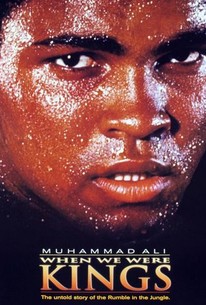 When We Were Kings Photos
Movie Info
On October 30, 1974, perhaps the most famous heavyweight championship boxing match of all time took place in Kinshasa, Zaire: the "Rumble in the Jungle" between champion George Foreman and challenger Muhammad Ali. In historical footage and new interviews, this documentary explores the relationship between African-Americans and the African continent during the Black Power era in terms of both popular culture and international politics, including the brutality of then-dictator Mobutu Sese Seko.
Critic Reviews for When We Were Kings
Audience Reviews for When We Were Kings
½
When you're making a film about an iconic figure, it's very easy to get caught up in the mythology of the person in question and lose sight of the real figure at the heart of the story. This becomes all the more impossible when that figure is Muhammad Ali, whose impact on the sport of boxing is matched only by his political reputation. It is impossible to write the history of America without at least devoting a chapter to Ali, but equally we have every right to ask whether he truly deserves the pedestal society has given him - or at least, whether he deserves one quite so tall. When We Were Kings is an admirable attempt to document Ali at the moment of what is arguably his greatest triumph - his comeback against George Foreman in 1974, in what was christened 'the Rumble in the Jungle'. If Entertainment Weekly is to be believed, it took director Leon Gast 22 years to finance, shoot and edit the finished film, which went on to win the Best Documentary Oscar in 1996. But just as Tinker, Tailor, Soldier, Spy is often more interested in guilt and cultural ennui than it is about actual spying, so Gast's film about boxing has less of the sport in it than you may expect, something which is both its most unique quality and its Achilles heel. The first telling sign of Gast's true intentions lies in his choice of contributors. While a more conventional boxing documentary would have interviewed the two pugilists and their close associates (whether they be family, friends, trainers or whatever), Gast's cast of talking heads consists primarily of journalists and other cultural commentators, like filmmaker Spike Lee and The Village Voice co-founder Norman Mailer. By giving us a vicarious experience of the fight and its build-up, Gast is trying to avoid the trap of just letting the main players reiterate their self-aggrandising soundbites, and for the most part it works really well. For people of my age, who grew up with the likes of Senna and the later, better works of Julien Temple, Gast's approach with regard to talking heads may come across as rather old-fashioned. But it avoids being televisual, thanks in part to his shooting style and the way in which he frames his speakers, often putting them in middle distance from the frame to convey a sense of perspective, rather than in an aggressive close-up. Mailer particularly benefits from this stylistic choice; you understand from his body language how passionate he is about his subject matter, to an extent that you would never get just from looking at his face and hearing him talk. What becomes clear very quickly with When We Were Kings is that Gast is just as interested in the culture and politics surrounding the Rumble in the Jungle as he is in the actual fight. Much of the build-up concerns itself with the unstable political climate of Zaire and the unsavoury dictatorship of Mobutu Sese Seke, with Mailer sharing a particularly forthright anecdote about the murder of criminals. Just like 'The Thriller in Manila' a year afterwards, the staging of the Rumble in the Jungle is one of two fighters with varying principles at war with each other against a backdrop of poverty and political corruption; money talked to make the fight happen, but once they enter the ring, their honour is the main thing on the line. The film is also interested in the music of the era, including the cavalcade of musicians which played at the so-called 'Black Woodstock' festival which took place alongside the fight. We get some enjoyable clips of James Brown, B. B. King and others in their respective primes, and it's difficult not to be swept up in the atmosphere of the event. If nothing else, the abundance of this footage, together with the clips of African drummers and dancers, make us feel rooted in the build-up; we soak in our surroundings, and though we are never anything but tourists, we are not manipulated and sold a dummy version of what 1970s Africa was like. The problem with having so much of this footage, entertaining and enjoyable as it doubtless is, is that the film becomes less focussed of the story in favour of wallowing in the atmosphere. Building up a palpable sense of tension in a thriller is a hard thing to do, but once you have it, it has to pay off in a satisfying way, and the same rules apply to documentaries. Having worked really hard to culturally and historically situate the fight, the film takes a surprisingly long time to get to the first punch being thrown, and the more footage of Ali and Foreman that we get before this point, the more restless and itchy we become. When Alfred Hitchcock was interviewed by Dick Cavett in 1972, he expressed regret about a scene in Sabotage in which a young boy carries a bomb onto a bus and is blown up by it. Hitchcock described his decision to let the bomb go off (rather than be found and disposed of) as "a terrible mistake" - not because it involved the death of a child, but because he had put his audience "through the mill" and not given them the relief they needed. While the parallel is far from exact, it reflects the main issue with When We Were Kings; instead of getting to the boxing sooner rather than later - something which newcomers would rationally expect - we get a lot of (albeit pleasant) shoe-leather and not enough analysis of the fight itself. The other effect of situating us so deep within the context of the fight - to the point where it is almost hypnotic - is that we get swept up in the mythology and mystique of Ali without getting an explanation to it. It is edifying to see Ali appealing to the common humanity of Africans and African-Americans, and to see people drawn towards him as a figure. But what we don't get enough of us is the ugly side of Ali - the same person who claimed to unite Africa would also stoop to calling Joe Frazier a gorilla just 12 months later. It may simply be a factor of my background - as a white, lower-middle-class, British male born in the late-1980s - that I will never appreciate the real impact that Ali had within black culture. It's easy to resort to platitudes, particularly since his passing, and given the broad spectrum of people he has influenced, it would be difficult for any one film to convey his legacy. When We Were Kings made the right decision of focussing on one event and using it as a microcosm to analyse the man; however, you leave the experience admiring the man but with niggling doubts as to why you admire him, or whether that admiration is fully deserved. That may be a failure of mine, but it is also a failure of the film for not pulling in complete novices like myself. Once we do actually get to the fight, Gast's talking heads hit their stride and we begin to get the level of technical and critical insight which we had expected all along. Mailer's account of the fight is excellent, from his description of Ali's dressing room ("it was like a morgue") to his analysis of Ali throwing right-hand leads to Foreman, and the connotations therein. The fight footage is framed intelligently and the denouement is fitting; if nothing else, it knocks the re-enactment of the fight from Michael Mann's Ali out of the ring and into a cocked hat. When We Were Kings is an absorbing and intriguing documentary which is dripping with cultural context but sadly a little too light on insight. As a time capsule of the 1970s in general and of this particular era in boxing, the film is little short of brilliant. But as an attempt at deconstruction of a myth - whether Ali's or Foreman's - it doesn't go deep enough, and may leave newcomers to the sport slightly baffled. As an introduction to Ali's mystique, it's definitely worth your time; just don't expect to come out with more answers than questions.
Daniel Mumby
Super Reviewer
Muhammad Ali was much more than a boxer, or showman, loudmouth, trash talker, or attention seeker; he was a spokesman for the black race and their social struggles, he embodied the will, anger and hope of that generation. The title itself says it all. Ali fighting Foreman was a David and Goliath kind of duel, they were like titans, god among men, two exemplary black athletes in an epic battle that shows the change of consciousness for their people in that particular time. Incredibly insightful and illuminating comments by people like Norman Mailer and George Plimpton.
Pierluigi Puccini
Super Reviewer
Highly entertaining documentary about the classic box fight between Ali and Foreman in Zaire 1974. Including interviews with witnesses and experts, this film covers the preparation, training, the concerts, background and meaning of the event for black people all around the world. It also showcases what a unique sportsman and entertainer Ali was at the height of his career. His charisma makes this film.
When We Were Kings Quotes
There are no approved quotes yet for this movie.