Where Do We Go from Here?
(1945)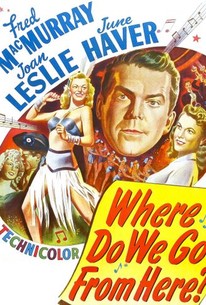 AUDIENCE SCORE
Critic Consensus: No consensus yet.
Where Do We Go from Here? Photos
Movie Info
In this engagingly silly musical fantasy from the waning days of WW2, Fred MacMurray stars as Bill, who wants to serve his country but has been classified 4-F. While working at a local USO, Bill falls in love with the fickle Lucilla (June Haver, soon to be Mrs. Fred MacMurray), never realizing that he himself is worshipped from afar by the sensible Sally (Joan Leslie). Stumbling across an old lamp donated to a scrap drive, Bill impulsively rubs the lamp--and out pops Ali (Gene Sheldon), a bibulous, bumbling genie. Hoping to become a hero in Lucilla's eyes, Bill asks Ali to put him in the US Army. The genie complies, but gets his wires crossed, and Bill ends up in the Continental Army during the Revolutionary War. In short order, Bill meets two lookalikes of the girls in his life at "Ye U.S.O.", shows up at Valley Forge and trades quips with General Washington (Alan Mowbray)--who, in anticipation of MacArthur and Eisenhower, bombastically insists that he has no political aspirations--unsuccessfully tries to alert Washington of the duplicity of Benedict Arnold (John Davidson), and ultimately finds himself behind enemy lines with a troop of Hessians, whom he tries to hoodwink by delivering a Nuremberg-style speech, replete with "Sieg Heils." Arrested and sentenced to a Hessian firing squad, Bill again summons Ali, who whisks him off to the year 1492. In an elaborate "opera bouffe", Bill musically dissuades the sailors serving under Christopher Columbus (Fortunio Bonanova) from staging a mutiny, convincing them to continue seeking out the New World (as represented by a group of Cuban natives in a conga line). Once on dry land, Bill is entranced by a comely Indian maiden who looks a lot like Lucilla, only to be entrapped in an old-fashioned "badger game" cooked up by the girl's wily Native American boyfriend (Anthony Quinn). Buying his way out of an embarrassing situation by agreeing to purchase Manhattan Island for $24, Bill is then transported to "New Amsterdam" in the mid-1600s. In his efforts to persuade the local Dutch elders that he is the rightful owner of Manhattan, Bill succeeds only in getting arrested again. This time, however, the drunken Ali manages to zap our hero back to the 20th Century--with the 17th-century equivalent of Sally in tow. The songs, by Kurt Weill and Ira Gershwin, are appropriately bright and satirical, but none are standouts. Still, Where Do We Go From Here? is one of those frothy 1940s concoctions that is absolutely impossible to dislike. ~ Hal Erickson, Rovi
Critic Reviews for Where Do We Go from Here?
All Critics (3) | Top Critics (3) | Fresh (2) | Rotten (1)
It has some wonderful moments, and how many other time-travel musicals can you name besides Just Imagine?

The show rumbles along Technicolorfully and, on the whole, quite amusingly, with some really bright spots and a lot of others so shamelessly silly that you enjoy them anyway.

Audience Reviews
There are no featured reviews for Where Do We Go from Here? at this time.
Where Do We Go from Here? Quotes
There are no approved quotes yet for this movie.