Where Eagles Dare
(1969)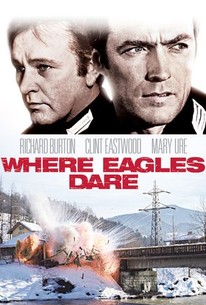 Movie Info
An expensive but enormously profitable war picture, Where Eagles Dare centers upon a daring rescue and even more daring escape. Disguised as Nazi officers, commandoes Maj. John Smith (Richard Burton), Lt. Morris Schaffer Clint Eastwood and six other courageous souls parachute behind enemy lines. Their mission: to rescue an American general, held captive in a supposedly impenetrable Alpine castle. Aiding and abetting the commandoes are Allied undercover agents Mary (Mary Ure) and Heidi (Ingrid Pitt). Also on hand is a British officer (Patrick Wymark), who masterminded the mission. Somewhere, somehow, someone amongst the Allies is going to turn out to be a traitor. There's also a neat plot twist in store when the commandoes manage to reach the American general -- which leads to yet another twist. The vertigo-inducing climax has made Where Eagles Dare one of the most sought-after of "early" Eastwood starring features. The film was written directly for the screen by espionage novelist Alistair MacLean. ~ Hal Erickson, Rovi
Critic Reviews for Where Eagles Dare
Audience Reviews for Where Eagles Dare
They sure knew how to make great WWII films back in the 1960's. So many classics from that era to love and remember. This highly suspenseful action-adventure, starring Richard Burton and Clint Eastwood in excellent form, joins those ranks with ease, as it takes us through a rousing series of taut and explosive events. While we do have to suffer a lot of obvious blue-screens, the outstanding story - along with its actors - makes such minor drawbacks effortless to overlook. There's a lot of plot twists as well, which results in the film being pleasantly unpredictable. We don't get that too much in modern cinema, without it feeling contrived or artificial in some way. Add to that the enchantingly sexy Ingrid Pitt, and you have more than enough reason to watch this great classic. A well-deserved 4 out of 5 stars!
½
An impossible but no less important mission.. Hyper cool heroes who perform the most daring stunts without as much as breaking a sweat.. Double, triple or even quadruple twists and turns in the plot (Eventually you'll loose count).. Overall, a brainless popcorn movie that does'nt offer anything reputable or realistic. Still its fun to watch Eastwood shooting the crap out of people.
One of the highlights of the World War II military caper films that were rather popular in the 1960s. It has all it needs: an impossible mission to a unique and interesting location, very bad odds and cool heroes. Here: Richard Burton as sly fox planning ahead and Clint Eastwood as tight-lipped rookie. While the first half concentrates on stealth and deception, the second is action packed, both are very exciting. The story offers more twists than you'd expect from such a film, too. As far as the realism of UK and US soldiers easily sneaking into Nazi facilities go: Tarantino certainly had a look at this before doing "Inglourious basterds".
Where Eagles Dare Quotes
| | |
| --- | --- |
| John Smith: | "a punk. a second rate punk at that" |
| John Smith: | A punk. A second rate punk at that. |
| | |
| --- | --- |
| Col. Kramer: | "I prefer the gestapo to be kept out of this matter " "I agree" |
| Col. Kramer: | I prefer the gestapo to be kept out of this matter. |
| | |
| --- | --- |
| John Smith: | Lieutenant, in the next 15 minutes we have to create enough confusion to get out of here alive. |
| Lt. Morris Schaffer: | Major, right now you got me about as confused as I ever hope to be. |