Where in the World Is Osama Bin Laden?
(2008)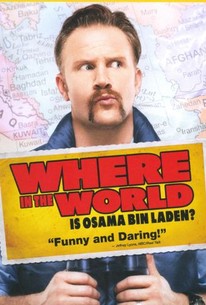 Where in the World Is Osama Bin Laden? Photos
Movie Info
With no military experience, knowledge or expertise, filmmaker Morgan Spurlock sets off to do what the CIA, FBI and countless bounty hunters have failed to do: find the world's most wanted man. Why take on such a seemingly impossible mission? Simple--he wants to make the world safe for his soon to be born child. But, before he finds Osama bin Laden, he first needs to learn where he came from, what makes him tick, and most importantly, what exactly created bin Laden to begin with. Following bin Laden's trail through some of the most dangerous places in the world, Spurlock encounters both the rational and the radical faces of the Middle East. He interviews many people who embrace him on the streets and welcome him into their homes, often gaining impressions that sharply contrast with the conventional media images of the region. Spurlock finds they're not that different from American families, sharing the same hopes and fears for their children that he has for his own.
Critic Reviews for Where in the World Is Osama Bin Laden?
Audience Reviews for Where in the World Is Osama Bin Laden?
½
"Where in the World is Osama bin Laden?" is an entertaining documentary that starts with Morgan Spurlock learning he is about to become a father for the first time. Fearing for the safety of his future offspring in such a cruel world and moving to Idaho apparently not being an option, he decides to be proactive and seek out the prime source of anxiety in the world today, Osama bin Laden. The training for Spurlock's journey to potentially hazardous countries takes care of any weight he gained during "Super Size Me"(which I have not seen, by the way) and proves that the scariest words in the English language are "If there is anything I have learned from watching action movies." In the process of his odyssey, he travels to Egypt, Morocco, Israel, Palestine, Jordan, Saudi Arabia, Afghanistan and Pakistan, talking with common people and experts alike. The movie is not terribly insightful, however, even though I agree with a lot of what Spurlock has to say. And I am left wondering how exactly he got permission to not only enter Saudi Arabia, but also to apparently freely film there. In the end, Spurlock has his last great adventure before having to grow up and become a father.(He gets to fire a rocket launcher which is cool and not as scary as it sounds.) At the same time, he is also asking the world to grow up and get over itself, so his children and the children of the world can live in peace together.
I have no comment! I also have absolutely no idea why I give it 3 stars, because this movie is very funny, but the plot is... well, I don't even know if it is fresh! This is soo weird!
½
Unlike the similarily toned documentaries by Michael Moore, or even director Morgan Spurlock's previous film, "Supersize Me", I doubt this will have any major social or political impact. Okay, sure, it does pose some interesting questions, I'll give it that much. But for all its fascinating qualities, it feels like Spurlock hasn't dug as deeply into the subject as he could have, and thus, it's more the kind of documentary you see for its entertainment value alone. So where in the world is Osama bin Laden? Well, as you might have imagined, it's not something that really gets answered here. What it does provide though, are some well-educated guesses and speculations. Interesting and thought-provoking such, but assumptions nonetheless. Political shortcomings aside though, this was still a very enjoyable watch. Especially with all the fun and humorous animations. Another thing I really liked about this film, was the very humane and down-to-earth feel it had. With his diplomatic and none-judgemental approach, Spurlock provides a reality-based image of arabs and muslims that is far from the angled view that we so often get spoonfed by the media. So altough Morgan may not unearth any groundbreaking facts, he does, in the end, grant us something far more essential: a tangible look at the common needs, hopes and wishes that connects us all as humans, along with some great examples of how positive change can be made by fairly simple and non-violent means. That alone made this into quite an inspiring experience.
Where in the World Is Osama Bin Laden? Quotes
There are no approved quotes yet for this movie.