Where the Day Takes You
(1992)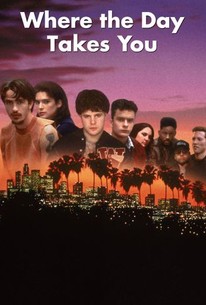 Where the Day Takes You Photos
Movie Info
Where the Day Takes You is a gritty look at the lives of runaways who survive on the streets of Los Angeles. The film is told through the recollections of a parolee (Dermont Mulroney) to his prison psychologist (an uncredited Laura San Giacomo). The movie cuts between his interviews and footage of him on the streets, where he tries to convince his friends and fellow runaways not to sink into a life of drugs and violence. The film's cast includes Kyle MacLachlan, Christian Slater, Sean Astin, Adam Baldwin, Will Smith, and Lara Flynn Boyle.
Critic Reviews for Where the Day Takes You
All Critics (5) | Top Critics (2) | Fresh (4) | Rotten (1) | DVD (2)
The movie, which was shot on and around Hollywood Boulevard, shows a side of runaway kids we haven't seen before: how they form surrogate families in the streets, seeking reassurance and security that they never felt at home.

Though hovering between art and sociology, realism and stylization, Rocco's film serves as showcase for young cohort of actors including Will Smith, Sean Astin, Dermot Mulroney, Lara Flynn Boyle and Balthazar Getty.
Nothing new here to be glommed, but this slickly done film is nevertheless hard-hitting.
Audience Reviews for Where the Day Takes You
½
Quite a brilliant film that's been swept under the carpet for the most part. Dermot Mulroney turns in a fine portrayal as the coin-rolling "leader" of a group of teenage runaways doing what they can to survive living on the streets of Los Angeles. Drugs and prostitution pose as threats to most of the kids being that they seem to be the alternatives to them going back to live with their families, as well as the bureaucratic ideals that oppose this free- wheeling lifestyle which essentially fuels their need of being apart from what is considered to be the right way of going about their young existences. This film is worth seeing for the brilliant character work by Dermot Mulroney alone, but has a cast that delivers quality performances such as Sean Astin's effective portrayal of a drug addicted teen.
½
Not bad, not gripping but not bad. I think i originally watched this because i wanted at the time to see Will smith in a serious role.
½
Urban drama about teen runaways on the streets of Hollywood features a dream cast of young actors (Will Smith makes his feature film debut here). Gritty juvenile delinquency film wants to be hard-hitting, but whenever something meaningful happens, the audience is subjected to tedious rock music by Melissa Etheridge and it becomes a music video. (She's credited with 5 songs on the soundtrack, but I defy anyone to tell them apart). Some nice performances, but ultimately a minor film.
Mark Hobin
Super Reviewer
Where the Day Takes You Quotes