Where the Truth Lies
(2005)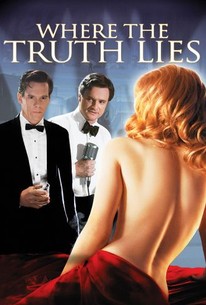 TOMATOMETER
AUDIENCE SCORE
Critic Consensus: The belabored noir plotting feels unbelievable, thus removing any sense of suspense. Also, Lohman is badly miscast.
Where the Truth Lies Photos
Movie Info
Kevin Bacon and Colin Firth star as a famous comedy team that splits up after a woman is found dead in their hotel suite. Two decades later, a journalist investigates what really happened in this stylish and riveting mystery directed by Atom Egoyan.
News & Interviews for Where the Truth Lies
Critic Reviews for Where the Truth Lies
Audience Reviews for Where the Truth Lies
Although this unremarkable film noir has good pacing and sometimes even seems carefully elaborated, the story is not really compelling or interesting, so you will probably not even remember it after seeing it.
Carlos Magalhães
Super Reviewer
atom egoyan is one of the best neo-noir directors, along with david lynch, brian de palma, paul verhoren and quentin tarantino since the 90s. i hate to say this but chloe is the first movie of his i saw, then this one. i've been continuously amazed at his stylish perspective to render man's obsession about the womankind in general. there're several formuli on noir: set in the seedy scenes of metropolitans like los angeles, hollywood or new york, and a detective or journalist with urgent pursuit of truth (in other words, an anguish desire to decode the myth behind the veil, such as solving a murder), and the the most ravishing of all: the voyeuristic projection of dramatized sex and twisted love (or another term would be romance without love)...there's also a term called metaphysical detective novel, which was initiated by borges, umberto eco way back in the 80s. in order to create a feeling of de-familiarization, the writers have to complicate the story into a labyrinthine myth, which deludes, misguides then leads you into the astray path while distracted by vast amount of gore and intensified sex. but the ending always results in a dystopic dissolution of its motif. its purpose is demystification through extreme mystisfactions. the plots of "where the truth lies" is literally process of seeking the real cause of death of an unknown young woman who dies in the royal suite of two hollywood superstars in 1950s. egoyan explores a lot upon the mentality of sex, for example, in one scene, kevin bacon's character narrates that he prefers the missionary position just to detect what his sex-mate is really thinking during it, but the woman stares fiercely back at him as if his soul becomes suddenly transparent. it has one of those explicitly titilating discussion on sex by creating great many interesting ways to fetishize and deitify woman in a not so depthless manner. no matter how creative their perspectives (or POV, more professionally speaking) could be, it's still phallocentric, and noir is an inevitably phallocentric genre. but in a phallocentric genre as this, directors like egoyan or lynch always invent the most imaginatively provocative form of homoerotic love scenes (lesbiano-erotic, correctly speaking) to render man's endless fascination and obsessive curisiosity for female sexuality. remember david lynch's muholland drive? the scene naomi watts kisses laura harring....if you saw this, you would get a clue about what i just said. as for this one, it's alice in the wonderland with a naughty twist. the pornographical version of alice in wonderland, mingled with strong insinuation of cunnilingus(am i explict enough here), accelerated through hallucinationary acid. and this is created by A MAN, who is better than any female directors at composing a female homoerotic scene!!! i have to say, whether it's chloe or where the truth lies, either one of these two egoyan's movies (with a lesbian twist) is far sexier and more entincing than "if the wall could walk 1 or 2" or even "high art" or "the kids are all right"...because the women are objectively evolved into the niche of misty mirage, and the man, the viewer would spend great efforts to grasp a piece of her ike groping an object blind-foldedly within a milky fog! and you cannot say it's deragatory, somehow it's quite compimentary to woman despite its relentless fetishization, with a sense of masochistic romanticism contradicted with a misogynistic resistance. btw, chloe is really great, and seriously under-rated. (if you wanna avoid this one for some silly misjudgement you hear from others, you would be missing one of the sexiest and most arousing love scenes..the loss is yours, not miine. hehe)
Veronique Kwak
Super Reviewer
½
"Having to be a nice guy is the toughest job in the world when you're not." Where the Truth Lies is pretty decent mystery/thriller that I probably would have never seen if it didn't have Alison Lohman in it. I'm glad I did, though, because I liked it quite a bit. More than I expected to. The story is about a young journalist in the 1970's (Lohman) who is charged with writing a book about a two-man song & dance showbiz act that she idolized as a kid. There's a mystery about a girl who mysteriously died in their hotel room in the 50's, and as she learns more about the two men (played by Kevin Bacon and Colin Firth) and the incident of the woman's death, she finds out secrets that may be best left uncovered. I thought the plot was pretty good, though it perhaps had one more twist than was wanted or necessary. All of the main actors did a fine job, and worked well together. I have to mention that this movie is rated NC-17 (at least, the version I watched), and there's plenty of sex and nudity. Not to the extent of what you can find on Cinemax on any given night or anything like that, but how much you enjoy seeing Alison Lohman naked (or Kevin Bacon's butt, for the ladies) will probably influence your opinion of the movie. Let's just say that I had no complaints. If you're looking for a way to spend a few hours in front of the couch, you could do a lot worse than Where the Truth Lies. For an under-the-radar movie, I thought it was solid and entertaining.
Where the Truth Lies Quotes
There are no approved quotes yet for this movie.