Where the Wild Things Are
(2009)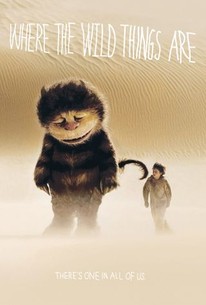 TOMATOMETER
AUDIENCE SCORE
Critic Consensus: Some may find its dark tone and slender narrative off-putting, but Spike Jonze's heartfelt adaptation of the classic children's book is as beautiful as it is uncompromising.
Where the Wild Things Are Photos
Movie Info
Visionary director Spike Jonze brings Maurice Sendak's beloved children's book to the big screen with the help of hipster icon Dave Eggers, who teamed with Jonze to pen the adapted screenplay. A mixture of real actors, computer animation, and live puppeteering, Where the Wild Things Are follows the adventures of a young boy named Max (Max Records) as he enters the world of the Wild Things, a race of strange and enormous creatures who gradually turn the young boy into their king. ~ Jason Buchanan, Rovi
News & Interviews for Where the Wild Things Are
Critic Reviews for Where the Wild Things Are
Audience Reviews for Where the Wild Things Are
Spike Jonze's auteurish adaptation of Maurice Sendak's classic children's book is dark, visually haunting and more adult in tone than the original story, taking us on a melancholy journey into a kid's inner self where his wild things are.
Carlos Magalhães
Super Reviewer
Spike Jonze perfectly captures the essence of childhood.
Sam Barnett
Super Reviewer
There's always a certain amount of trepidation when a filmmaker gets their hands on a book that you loved as a child. Even if we overlook the general risk that the whole project may become a cynical Hollywood cash-grab, the director's vision may be so different to your childhood imaginings that it ends up tarnishing the original experience, perhaps permanently. We find ourselves in precisely this predicament with Where The Wild Things Are. Maurice Sendak's 1963 book has become a classic in children's literature, beloved for generations and in various stages of development hell since the early-1980s. Spike Jonze is a director with a glowing reputation, but a seven-year gap between features isn't immediately reassuring. Fortunately, the results are very good, and while the film is by no means perfect, it remains a touching and compelling work. There has been a fair amount of debate as to whether Where The Wild Things Are can be called a children's film. Certainly its marketing didn't position it as such: its trailers played more on the indie cred of Jonze, highlighting the soundtrack work by Karen O of the Yeah Yeah Yeahs and using a re-recorded version of Arcade Fire's big hit 'Wake Up', which doesn't appear in the film. This is a touchy subject given that Sendak's book has become so iconic: surely any successful adaptation must be considered a children's film? Additionally, I've railed against many so-called children's films which are blatantly not for children - films like Ratatouille and much of Dreamworks' output, which are films aimed at an adult audience disguised as children's animations. But what becomes quickly apparent is that Jonze didn't want to make a typical children's film - not by a long shot. Instead, Jonze wanted to make a film about what it felt like to be a child - a film not just for children in a demographic sense, but about children in a behavioural sense. He wanted to capture the burgeoning, pre-pubescent energy of Max, exploring how his rage and frustration manifests itself as the Wild Things and how he comes to grow in realising how hard is it to govern one's personified rage. Certainly there's nothing about the film that could be called cutesy or sanitised, which comes as a relief given Disney's involvement in the early stages of development. The next issue that any adaptation would have to confront is the story. Where The Wild Things Are is barely 10 sentences long, and sure enough there isn't a great deal of plot in the film. In a more extravagant fantasy vehicle, such as the ongoing Hobbit trilogy, the paucity of story would either be stretched out with ancillary material or serve as a jumping-off point to take things in a new direction. But again, Jonze does it differently: he completely acknowledges the limits of the source novel, delivering a film which is more about mood than story. The visual tone of Where The Wild Things Are is one of whistful melancholy, into which the great pockets of childish energy can invade. The colour palette is rooted in earthy, wooden browns, pale yellows and the greys of faded stuffed toys, giving the world of the Wild Things an instant feeling of age and mystery. Lance Acord, who has worked with Jonze since Being John Malkovich, emphasises the scale of the Wild Things and their isolation; they tower over Max in the close-ups, but otherwise the landscape towers over them. In creating this whistful tone, Jonze succeeds in both rooting the angst of Max and conveying the way in which time passes for a child of his age. Young children do not have the same grasp of efficient narrative storytelling that we embrace as adults; in their fantasies they often feel like they've been away for years, even if they can't describe everything they did in that time. Jonze beautifully captures the feeling present in the book that Max's adventure is like a half-remembered dream - and, as a bonus, works around the fact that not very much happens. The film also deserves credit for the realisation of the Wild Things. Having toyed with various CG options between the early-1980s and mid-2000s, the creatures were eventually brought to life through the Jim Henson Workshop. Despite being partially created with animatronics, they have none of the creakiness or jerky movements that we associate with this form of puppeteering. And while some CGI was involved to sync up the dialogue with the characters' lip movements, they still have an amazing and distinctive physicality, without which the film would simply be a failure. This brings us on naturally to the cast, who are generally very good. James Gandolfini is the stand-out among the voice actors, bringing a lot of anger to the part of Carol but also conveying the age of the Wild Things. Catherine Keener doesn't get a great deal of screen time, but she does convey the sense of frustration that sets the story in motion. As for the lead, Max Roberts takes a little while to bed into the role, but his performances is naturalistic enough to be convincing in the end. The other great success of Where The Wild Things Are is its subtlety. The book has often been interpreted as a Freudian text, in which the Wild Things are different manifestations of Max's anger. The lazy thing to do in these circumstances would have been to divide up Max's personality traits and deal them out to the Wild Things, so that each one would represent something at the expense of proper characterisation. Instead, Jonze leaves it open to us to decide the different Wild Things' significance, letting us be as imaginative as Max is. There are a couple of small problems with Where The Wild Things Are. In spite of consciously addressing the lack of plot and the choice of pacing, the film still feels slow or baggy in places. For everything that I've talked about, and all the successes in Jonze's approach, there remains a nagging feeling that more could have been done with the characters, which would in turn have justified the cinematic scale. Another smaller problem is the sound mixing. While the musical soundtrack fits pretty well with the action on screen, at times it is difficult to discern what the Wild Things are saying, particularly during their first encounter with Max. This becomes less of a problem as the film goes on and the acting becomes more boisterous, but it prevents us from getting in the zone with the characters sooner, which may put younger viewers off. Where The Wild Things Are is a very interesting achievement which will go down as one of the most intriguing and original children's adaptations in recent memory. While not everything about the story or its execution is entirely satisfying, Jonze deserves a lot of credit for capturing the mood and tone of Sendak's story, and for his realisation of the titular creatures. Whether as a playful exploration of a child's imagination or a complex Freudian journey, it is something that remain with you for a very long time.
Daniel Mumby
Super Reviewer
Where the Wild Things Are Quotes
| | |
| --- | --- |
| Max: | Let the wild rumpus start! |
| | |
| --- | --- |
| KW: | Step on my head. |
| Carol: | No. Forget it. I'm not going to step on your head...just to make you feel better. |
| | |
| --- | --- |
| KW: | Don't go. I'll eat you up, love you so. |
| | |
| --- | --- |
| Douglas: | Will you keep out all the sadness? |
| Max: | I have a sadness shield that keeps out all the sadness, and it's big enough for all of us. |