Where to Invade Next
(2016)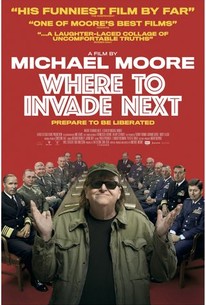 TOMATOMETER
AUDIENCE SCORE
Critic Consensus: Where to Invade Next finds documentarian Michael Moore approaching progressive politics with renewed -- albeit unabashedly one-sided -- vigor.
Where to Invade Next Videos
Where to Invade Next Photos
Movie Info
This is an expansive, rib-tickling, and subversive comedy in which Moore, playing the role of "invader," visits a host of nations to learn how the U.S. could improve its own prospects. The creator of Fahrenheit 9/11 and Bowling for Columbine is back with this hilarious and eye-opening call to arms. Turns out the solutions to America's most entrenched problems already existed in the world - they're just waiting to be co-opted.
News & Interviews for Where to Invade Next
Critic Reviews for Where to Invade Next
Audience Reviews for Where to Invade Next
½
I have always been intrigued by Documentaries with great stories/messages to tell. When the trailer was released for "Where to Invade Next," I was immediately hooked on it's concept. Michael Moore has always been a very controversial filmmaker. With something like "Bowling for Clumbine" or the more recent "Capitalism: A Love Story," he has always been pushing the boundaries as to what may offend the average viewer. This film is the exact opposite of that. Following Moore as he travels the world, invading countries to get insight on their laws, school board systems, and their general ways of life, he kicks his own country to the curb by showing how everyone else is clearly better than the United States of America. This film explores the harsh truth of all the horrible/pointless laws that the USA has, while also stating that the reason they are so down in the dirt, is due to them forgetting the laws they set in motion so many years ago. From Slovenia giving homes and knives to prisoners, to students only attending class for three hours a day in Germany being a good thing, "Where to Invade Next" makes you feel bad for any country who doesn't do this. Moore somehow finds a way of showing how the entire world should have these laws if they currently do not. Our world has bee divided longer than anyone currently living can remember, but we have admittedly gotten much better over the years. This film exposes the fact that, that is not saying much at all. Some parts of the world get much more vacation time, even if they have not worked to deserve it. Everyone has a different way of living, and if you have an issue with it, then why are you not trying to do something about it. At it's core, this film states why you should not be complaining about your way of living if you are not currently doing anything about it. In the end, the film may have a few portions that divert from the core subject matter, but it is interesting beyond belief and the information Michael Moore is able to attain from visiting these few countries will shock any viewer in my opinion. Even if you are a very knowledgable audience member, this film has many surprises to throw at you, and they will come rapidly. "Where to Invade Next" is insightful, daring, and just downright honest. One of the best documentaries I have seen in a very long time. Highly recommended.
½
Michael Moore travels some few odd countries in the world, American flag in hand, to highlight where other nations have done it better. Done what, you might ask? Take American ideas about social welfare and put them to use. ("If they ain't as good as us, how come they do it so good?") Whether you enjoy this loose improv of a work or not might depend on how much chiding you can stand, however lightly delivered. And then there's Moore himself: although he makes good points in an interesting fashion there's something inherently slimy about the guy.
Kevin M. Williams
Super Reviewer
½
Moore's films always seem a bit too scripted, as if drawing simplistic conclusions from facts only to corroborate his points of view, but even so this is an intriguing documentary that should make Americans have a look at what other cultures around the world could teach them.
Carlos Magalhães
Super Reviewer
Where to Invade Next Quotes
There are no approved quotes yet for this movie.