While the City Sleeps
(1955)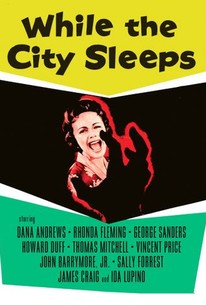 While the City Sleeps Photos
Movie Info
The "lipstick killer", a serial murderer who leaves the cryptic message "Ask Mother" at the crime scenes, is at large in the Big City. Vincent Price, the wastrelly inheritor of a major newspaper chain, offers a large cash reward to any of his staffers able to find out the identity of the elusive killer. This leads to a great deal of infighting amongst Price's reporters, especially cynical journalist Dana Andrews, photographer James Craig, "sob sister" Ida Lupino, and wire service chief George Sanders. Integrity and human values are not considerations in the race for the gold: one of the contestants, in fact, willingly offers his girl friend as bait for the killer. Adapted by Casey Robinson from a novel by Charles Einstein, While the City Sleeps features Thomas Mitchell as a scheming managing editor, Rhonda Fleming as Price's faithless wife, and John Barrymore Jr. as the mixed-up murderer, who in the end is more pawn than predator. To inject a bit of much-needed humor in the proceedings, director Fritz Lang inserted a scene wherein Ida Lupino puts the make on Dana Andrews by tantalizing him with a nude photograph -- which turns out not to be of Ida but of a baby on a bear rug. Producer Bert Friedlob hated the scene, and insisted upon cutting it out. Lang offered a compromise: if the preview audience laughed, the scene stayed. They laughed, but Friedlob insisted upon extending the preview process until he came across an audience who wouldn't laugh (they always did, and the scene is still in the film). Though a huge moneymaker for the flagging RKO Radio Pictures, While the City Sleeps was actually produced independently, and originally slated for United Artists release before RKO agree to distibute the film.
Critic Reviews for While the City Sleeps
Audience Reviews for While the City Sleeps
Makes a fantastic companion piece to Lumet's Network
Marcus Woolcott
Super Reviewer
½
A pretty decent film noir from Fritz Lang. While not nearly as massive a film as say M or Metropolis, this is still a very well done film, even if it isn't perfect. This is part murder mystery and part a movie about the newspaper buisiness and to be honest I kinda would have prefered if they had chosen one or the other to focus on, preferably the murder mystery as I found that to be the most interesting aspect of this. The love story on the side I could have done without altogether. Vincent Price is in this as the useless son, who has inhearited this newspaper comapny from his recently deceased father, without having any clue of how to actually run a newspaper company. He's good in his role. I also liked the kid who played 'the Lipstick Killer'. All in all a good film, that has some minor flaws but is worth watching for fans of Fritz Lang or Film Noir in general.
Ed Fucking Harris
Super Reviewer
½
In "While the City Sleeps," Edward Mobley(Dana Andrews) is left with the tough job of having to announce the death of Amos Kyne(Robert Warwick), the owner of Kyne Media and his boss, on his nightly newscast. That leaves the company in the less than capable hands of Amos' playboy son Walter(Vincent Price) who does not inspire his new employees. At least, he realizes his shortcomings by announcing the new position of Executive Director which he makes a contest between Mark Loving(George Sanders), John Day Griffith(Thomas Mitchell) and Harry Kritzer(James Craig). So, the spoils go to whoever reveals the identity of the lipstick killer(John Barrymore Jr.). "While the City Sleeps" is an entertaining movie performed with aplomb by a marvelous cast(not forgetting Ida Lupino and who could?) that owes more than a little debt to King Lear in its division of a kingdom.(And a character also references Macbeth.) And director Fritz Lang is certainly in his element here, again exploring civic responsibility with newspapers and related media in a free society that cannot properly function if they work entirely out of self-interest, as depicted here. As Amos puts it, a newspaper allows the citizens to make up their own mind while at the same time he puts the lipstick killer on the front page to scare everybody. Even though there is a killer on the loose, that's no reason to panic. And it is certainly no reason to take a cheap shot at comic books even in the wake of organized hysteria.
While the City Sleeps Quotes
There are no approved quotes yet for this movie.