Whisper of the Heart (Mimi wo sumaseba) (If You Listen Closely)
(2006)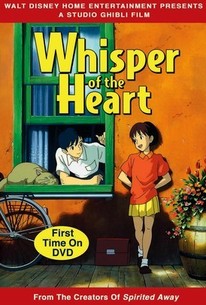 Whisper of the Heart (Mimi wo sumaseba) (If You Listen Closely) Photos
Movie Info
Written by animation master Hayao Miyazaki and directed by his protégé Yoshifumi Kondo, this film is a simple tale about a young girl who falls in love and learns to believe in herself. Suzuku Tsukishima is nearing the end of her final year of junior high. An avid bookworm, she devours books while quietly dreaming about becoming a writer. Though vivacious and outgoing with her best friend, she withdraws into herself when in the presence of her bossy older sister; her studious father, who is busy researching local history; and her mother, who is absorbed in the college courses she's taking. Then one day, she meets Seiji, a lad who has the ability to both irritate and charm her, often at the same time. He also harbors an unusual ambition: to build violins in Cremona, Italy. Around the same time, she meets a kindly old man who owns an antique shop, whom she later learns is Seiji's grandfather. One item in the store particularly catches her eye -- a strange statue of a cat with glittering eyes. Inspired by Seiji's utter determination to realize his own dream, she writes a story about the feline-shaped sculpture coming to life. ~ Jonathan Crow, Rovi
Critic Reviews for Whisper of the Heart (Mimi wo sumaseba) (If You Listen Closely)
Audience Reviews for Whisper of the Heart (Mimi wo sumaseba) (If You Listen Closely)
½
Do not be fooled by the film's teen-romance premise, this near classic effort from Studio Ghibli is far from the trite, superficial, and corny-dialogued affairs that Hollywood tirelessly churns out. This often-overlooked entry in the Studio Ghibli catalogue is so much more than a mere idealistic boy-meets-girl tale. Not only is this wonderful flick a guiltless and effectively heartwarming schoolyard romance, but it also manages to be a timelessly relevant and up-lifting coming-of-age story. Devoid of fantasy elements much like 'Only Yesterday', this Ghibli effort instead tells a much more down-to-earth and intimately personal tale of a young girls experience of first love and her journey towards discovering her dreams. All the characters feel real, a lot of their emotions ring true and each goes through real-life problems that any of us can relate to (first crush, deciding your future, trials of schoolwork). The film's protagonist, the sweet but kinda absent-minded middle school student Shizuku, goes through a riveting character arc that should provide inspiration to all people who are nervous about taking those rough first few steps towards their life's goals. The film was written by Hayao Miyazaki and directed by his protégé Yoshifumi Kondo, who worked as an animation director for Ghibli efforts such as 'Kiki's Delivery Service', Isao Takahata's 'Grave of the Fireflies', and 'Princess Mononoke'. This was Kondo's first and sadly last directorial effort before his untimely death in 1998. If this one film were any indication, Kondo would have been a great person to be Miyazaki and Takahata's successor because he exemplified the strengths of both filmmakers. The animation is fantastic and does an incredible job of portraying the mundane Japanese hill town as a magical and wondrous place. So much great subtle detail is given to Shizuku's cramped apartment, the antique shop, and cityscapes; that it feels like at times we are looking at a photograph. As a simple observation of everyday life, 'Whisper of the Heart' is very insightful and adds a nicely unique atmosphere to the narrative. The music score provided by Yuji Nomi is absolutely breath-taking and this flick also makes extremely effective use of John Denver's 'Take Me Home, Country Roads', which serves as the main theme of the film. In probably the only instance of a musical number in a Ghibli flick, the song is played in a chamber-music style (complete with alternative lyrics to fit the movie's themes of self-discovery) that is absolutely spellbinding and too sweet for words. I could probably talk about this criminally underrated masterpiece for a while, but words simply cannot do justice to this unique entry in the Ghibli catalogue. This is far from a assembly-line romance flick, it a very personal and endearing slice-of-life that manages to be realistic but majestic in true Studio Ghibli fashion. I believe both girls and boys will find something worthwhile due to great filmmaking, relatable characters, subtle humor, great animation, an un-cynical portrayal of love, and a great message. 'Whisper of the Heart' provides a great demonstration of the wide range of animation; showing it doesn't need magic, giant robots, big swords, and titanic monsters in order to be compelling. If Miyazaki and Kondo were able to work together again; I believe they would have produced another masterpiece. My personal favorite Ghibli film alongside 'My Neighbor Totoro'.
Christopher Heim
Super Reviewer
½
A young teenage girl searches for her first love---the guy who checked out all the same books from the library she did---while trying to find her voice as a writer. This coming of age tale with only mild touches of fantasy was a departure for Studio Ghibli, but it's well put together with crisp art and a soapy narrative with lots of subplots; it should resonate with girls just entering the early double digits.
½
This was a cute movie :)
Dead Angel
Super Reviewer
Whisper of the Heart (Mimi wo sumaseba) (If You Listen Closely) Quotes
There are no approved quotes yet for this movie.