White Bird in a Blizzard
(2014)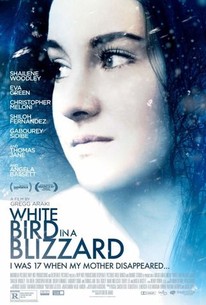 TOMATOMETER
AUDIENCE SCORE
Critic Consensus: Part suburban thriller, part sexual awakening drama -- and fully convincing as neither -- White Bird in a Blizzard rests a little too heavily on Shailene Woodley's typically superlative work.
White Bird in a Blizzard Photos
Movie Info
Kat Connors is 17 years old when her perfect homemaker mother, Eve, a beautiful, enigmatic, and haunted woman, disappears - just as Kat is discovering and relishing her newfound sexuality. Having lived for so long in a stifled, emotionally repressed household, she barely registers her mother's absence and certainly doesn't blame her doormat of a father, Brock, for the loss. In fact, it's almost a relief. But as time passes, Kat begins to come to grips with how deeply Eve's disappearance has affected her. Returning home on a break from college, she finds herself confronted with the truth about her mother's departure, and her own denial about the events surrounding it... (C) Magnolia
News & Interviews for White Bird in a Blizzard
Critic Reviews for White Bird in a Blizzard
Audience Reviews for White Bird in a Blizzard
½
Quite interesting, although I really expected a different twist at the end. .....mild spoiler..........quite honestly, I really though Kat killed her mother due to all the weird dreams. I think that ending would have worked, though I really didn't see the actual one coming either. Gregg Araki is an interesting director. His work can be hit or miss. This one wasn't great, but it was well done and I think I wouldn't mind watching it again some time. I may have liked it more if Shailenne was not the main actress. I am not saying she is bad as an actress, she's really not, and she does a good job here, but she doesn't have a compelling screen presence, and honestly she seems a little old for the part in appearance which is distracting. Eva Green, wow, she's really good as the unhinged mother who disappears. Glad I saw this. Stumbled on it on Netflix before having heard about it. Worth a look.
Nicki Marie
Super Reviewer
½
In "White Bird in a Blizzard," one day, Katrina(Shailene Woodley) finds her mother(Eva Green) sleeping in her bed. The next day, she is gone without a trace. So, Katrina and her father(Christopher Meloni) go to the police station to report her disappearance and speak with Detective Scieziesciez(Thomas Jane) who provides no leads but to whom Katrina warms up to. Before all of this, Katrina's life was normal, hanging out with her friends Beth(Gabourey Sidibe) and Mickey(Mark Indelicato) and losing her virginity to Phil(Shiloh Fernandez), her boyfriend next door. While Gregg Araki is mostly known for the provocative material of his films, what people generally forget is how well he gets coming of age movies right. That's no less true with his latest film "White Bird in a Blizzard" which is actually equal parts evocative and provocative. So, as much as sex is a part of this movie and these characters' lives, memory becomes just as big a key, with the movie richly taking on dreamlike imagery along the way. But then the film suddenly ends, revealing the solution to the mystery it had been building all along, which makes sense but at the cost of any kind of ambiguity in the process.
½
Quite a predictable story for a mystery/thriller, spoilt further by giving an unwanted absurd twist in the ending for the sake of closure.
familiar stranger
Super Reviewer
White Bird in a Blizzard Quotes