White Dog
(1982)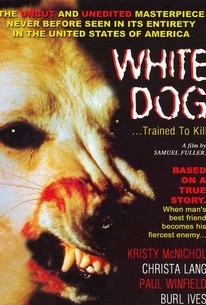 Movie Info
A powerful saga about racism. Julie Sawyer (Kristy McNichol) hits a handsome white dog with her car one night and then nurses it back to health. One day, the theretofore mild-mannered dog saves her life by viciously attacking and killing a rapist who breaks into her home. Lucy discovers that the dog has been trained to attack black skin. She consults an animal trainer, Carruthers (Burl Ives), who urges her to have the dog exterminated. But a maverick black trainer, Keys (Paul Winfield), who has tried before to break the training of such dogs but never succeeded, steps in. ~ Michael Betzold, Rovi
Critic Reviews for White Dog
Audience Reviews for White Dog
½
The excellent editing and gripping story (despite the expository dialogue) compensate well for Fuller's problems in direction - he really knows how to work with dogs but has serious trouble to articulate the action in the mise-en-scène without killing the tension.
Carlos Magalhães
Super Reviewer
[img]http://images.rottentomatoes.com/images/user/icons/icon14.gif[/img] Upon it's original release Samuel Fuller's masterpiece White Dog was wrongly accused of being racist, when it is in fact one of the least racist films i've ever laid my eyes upon. Firstly the plot is fairly straight forward and doesn't really need to be looked at in depth, the film however is powerful and incredibly profound. Basically a rising actress accidentally hit's a seemingly beautiful dog on the road, she takes it home and cares for it, and over time realises that on the inside the dog is not so graceful. That it is in fact a "white dog", she then searches for a cure, and finds a man who happens to be black who works with animals frequently, who is then determined to cure it of it's hatred for dark skinned humans by any means neccessary. This is a simple film that has many ambitions and thoughts on a subject that is often very hard to touch upon, but it manages to do so flawlessly with mighty, hard hitting drama. It features some brilliant performances from it's small cast and mesmerising direction and screenwriting from the always interesting director. To a purpose it's brutal and violent and in addition the perfect example of style and substance working together in a way that doesn't require a massive budget and I really enjoyed watching it. In my personal opinion the ending of this masterful and sadly forgotten picture is arguably the most intriguing act it boasts. I wont spoil it, but what I will say is that White Dog has an underlying message that is greatly debatable below it's delightful entertainment value that genuinely moved me. That racism can actually be cured, and can only ever be subjected or triggered by hatred, and that hate is the single aspect of one's emotions, whatever the species, after it's been infected, that is truly impossible to cure.
Directors Cat
Super Reviewer
½
White Dog was a film that was both lovingly devote to the relationship between a girl and her dog, and a bitter resignation towards racism in the world. The film is one giant metaphor for racism, portrayed in guise as an unnamed white dog. The dog is discovered by a young actress in the Hollywood Hills (McNichol) who takes him in as her own. Sadly she discovers that he has been trained as an attack dog, and he begins viciously ripping apart people left and right. It isn't until the dog is taken to a trainer that he is revealed to be a "white dog" or a dog trained to attack black people on sight. The dog is retrained by black man Keys, as he tries to drive the hatred out of the animal and reprogram him for the outside world. At first I believed it was a cautionary if not horrific tale of an animal, subjugated to abuse and retrained to be a happy, helpful animal. That in itself made the film heartbreaking, wrenching and bereft of hope, because it was a story about an animal and its fate. The film is also a mixed metaphor about the role of racism, and how to end it within our lives and in individuals wishing to change. The role of the dog is either to suggest that racism itself can never be cured, or the hatred that racism invokes will never die, and that hatred will be turned upon someone else time and again. I don't readily agree to that assumption, but I understood the artful way the director took it upon himself to make this film a statement, one that was criticized at the time for being errantly racist, and finding the black characters to be stereotypical. The film wasn't released in the United States thanks to boycotting and a lack of support from moderate black advocates. Still, it was given a great critical base, and thankfully the Criterion Collection released it on DVD in 2008. The film isn't racist, the characters are not stereotypical or biased individuals, the acting isn't too corny, and I found the ending and the ensuing story to be more about the dog than anything. When that dog reveals itself to be a monstrous creation, I feel just as badly for those who have been attacked and warranted abuse because of its existence than I do for the dog itself, who doesn't know better. When the dog is with McNichol's character that white German Shepherd is sweet and lovable, and it is the abuse that sparks anger, as well as the bile forming fact that it's all to ensure racism lives. A thought provoking and stylized film that lasts in your mind long after you have seen it.
Spencer S.
Super Reviewer
White Dog Quotes
There are no approved quotes yet for this movie.