The White Gorilla
(1947)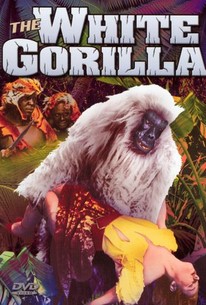 AUDIENCE SCORE
Critic Consensus: No consensus yet.
Movie Info
Considered one of the worst films ever made, White Gorilla will be a special treat for those with a love and appreciation of dreadful cinema. Much of the footage for this sub-bargain-basement jungle adventure was gleaned from Perils of the Jungle a silent film made 20 years before. It was spliced together with new footage starring Ray Corrigan running about in a tacky white gorilla suit. To keep the resulting plot holes from showing up too badly, an extremely serious narration was tacked on (of course it only serves to accentuate the film's problems, but that's half the fun!). The poor white gorilla is considered a pariah by the normal black gorillas and spends his life frustrated, angry, and alone. Unable to control his rage at being outcast, he becomes a murderous, rampaging beast, killing anything or anyone who even remotely resembles a primate. His path of destruction continues until the biggest, baddest gorilla in the land challenges him to a final showdown, one that could have terrible repercussions for all of Africa.
Critic Reviews for The White Gorilla
There are no critic reviews yet for The White Gorilla. Keep checking Rotten Tomatoes for updates!
Audience Reviews for The White Gorilla
This movie is from the Alpha Video Songs of Kong 10 Movie Collection. This is a pretty cheap film. A silent movie is dubbed into other film cuts, added are screams of women, silent film footage is so old. Should have been called Jungle Baby and the White Gorilla, as first part of movie is more about baby Jungle Boy. Kind of a raciest movie for 1947 after all the black gorillas hate the white gorilla and want to kill him. So the white gorilla hates everyone and wants to kill everyone. Most of the movie is narrated, man telling story to three companions, but at the end of the movie three companions leave to go into Jungle, and he keeps telling the story but to who. Also near end girl standing in front of trading post actually wearing 2 different dresses during film takes. The Gorilla only gets 2 stars from me.
Bruce Bruce
Super Reviewer
The White Gorilla Quotes
There are no approved quotes yet for this movie.