White Heat
(1949)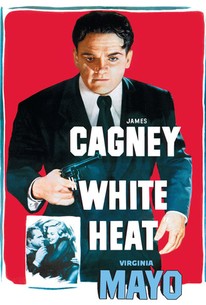 TOMATOMETER
AUDIENCE SCORE
Critic Consensus: Raoul Walsh's crime drama goes further into the psychology of a gangster than most fear to tread and James Cagney's portrayal of the tragic anti-hero is constantly volatile.
Movie Info
This gangster movie centers on a psychotic, mother-obsessed thug.
Critic Reviews for White Heat
Audience Reviews for White Heat
½
Bridging the gap between the gangster era and film noir is this doozy of a crime epic. Cody Jarrett is a real piece of work, he's a determined criminal with a strong desire to be 'on top of the world'. He's neglectful of his sultry wife, feverishly devoted to his doting mother, and actually finds glee when it comes to dishing out acts of violence, even upon his own gang of thugs. He also suffers from crippling migraines, which really seem to have an effect of his already fractured psyche. After inadvertently leaving clues behind following a railroad heist, Jarrett becomes a target of the feds. In order to cover his tracks, he willingly goes to prison on a trumped up charge. While there, he befriends a mole placed by the G-Men to infiltrate his gang. Jarrett and the mole escape from jail, and once out, they regroup the gang in order to pull off another masterful caper, unaware of the plans of the feds. This is a really stunning film, and definitely high on the list of best ofs in the genre. Raoul Walsh provides some strong, briskly paced direction, there's great camera work, and a fair amount of character study, depth, and food for thought. The action set pieces, especially the finale are superb, and through it all we get some terrific performances, dominated by the always impressive Cagney. If you're a fan of gangster films, or just love a great crime yarn in general, then this is a must-see.
Chris Weber
Super Reviewer
Someone on IMDB called "White Heat" the bridge "between film noir and WB's classic gangster flicks", and I think it's a pretty apt description. It's the story of Cody Jarrett, psychotic gangster feared by everyone, and yet constantly looking over his shoulder as conspirators lie in wait at every turn (whether it be his right hand man, Big Ed, or the undercover cop, Vic Pardo). Cody the crackpot, with his phantom headaches and his obsessive fixation on his mother, you get the sense of impending doom lingering about his head. So what makes this film so noir-ish? Well, there's a certain amount of lurid fascination we the audience are made to feel with Cody's world, be it with his sleezy, back-stabbing wife or his disturbingly ruthless mother, it's all gritty and seedy. Characters like Pardo or "The Trader" (Cody's "manager") feel like they're ahead of their time in some ways, and we can still see echoes of them in modern day crime films. But it's James Cagney's Cody that steals the show. He's intense, intelligent, but maybe a little too trusting of those around him. His character is kind of pitiful in that he never sees betrayal coming until it's too late. It's a great performance and a great, if quirky crime noir that's right up there with The Big Sleep and The Big Heat (and other "big" movies, for that matter- well, except for Tom Hanks' "Big", obviously).
Devon Bott
Super Reviewer
My favourite gangster movie, Cagney is brilliant as the crazy mama's boy gang leader. The ending is classic. I love it.
White Heat Quotes
| | |
| --- | --- |
| Arthur Cody Jarrett: | Made it, Ma! Top of the world! |
| | |
| --- | --- |
| Arthur Cody Jarrett: | A copper! A copper!! And I treated him like a kid brother......and I was going to go 50-50 with a copper!! |
| Arthur Cody Jarrett: | A copper! A copper! And I treated him like a kid brother... and I was going to go 50-50 with a copper! |
| | |
| --- | --- |
| Arthur Cody Jarrett: | Made it, Ma! Top of the world! |