White Hunter Black Heart
(1990)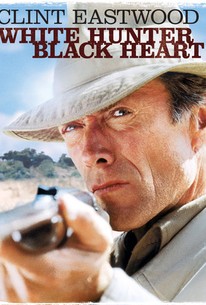 TOMATOMETER
AUDIENCE SCORE
Critic Consensus: White Hunter Black Heart is powerful, intelligent, and subtly moving, a fascinating meditation on masculinity and the insecurities of artists.
White Hunter Black Heart Photos
Movie Info
Clint Eastwood's White Hunter, Black Heart is adapted from Peter Vietel's fictionalized tale of John Huston's filming of The African Queen. Eastwood's character, John Wilson, is a movie director who is obsessed with hunting a bull elephant while he's filming on location in Africa. Wilson is accompanied by an old friend named Pete Verrill (Jeff Fahey), whom the director brought in to help write the film he is shooting, but it becomes increasingly obvious to both Verrill and the audience that Wilson is far more interested in hunting elephants than making a movie. White Hunter, Black Hunter meanders slightly during its running time, yet anyone interested in filmmaking, as well as fans of John Huston or Clint Eastwood, will find this tribute fascinating, particularly since Eastwood's performance is among his most remarkable.
News & Interviews for White Hunter Black Heart
Critic Reviews for White Hunter Black Heart
Audience Reviews for White Hunter Black Heart
½
Director, Clint Eastwood crafts not just one of his finest film but one of his best performances. It`s an enduring, compelling and superb entertainment filled with adventure, wit and intelligence. It`s sharp, thrilling, funny and truly absorbing from start to finish. A masterful piece of work that delivers gorgeous locations and wonderful character development. A fascinating and magnificent movie. I loved it. Eastwood is magnificent, he gives lots of energy, heart, passion and humor to his performance. Jeff Fahey is outstanding, this is his best film performance ever.
There is a theory that a truly great film director has to be obstinate and uncompromising to any opinion or advice anyone else on the film set would have, reasonable or not.Think about a director like Stanley Kubrick who was such a perfectionist that infamously required over 100 takes of the same scene.John Huston was another prime example, a man whom most people cited as being very difficult to work with. Paul Newman once described him as an "eccentric's eccentric."Yet somehow he managed to make great films like "The Maltese Falcon" to be admired by many for decades to come. When he was scouting for locations in Congo and Uganda for the shooting of his famous 1951 classic, "The African Queen," he had brought along Peter Viertel to Congo and Uganda as a script doctor to accompany him.Viertel eventually published a fictionalized novel based on the experience called, "White Hunter, Black Heart."The account was a brutal, unflattering portrait of a director who got distracted from actually making a film in Uganda to indulge in his infatuation with hunting down an elephant. Bringing this novel to the big screen would seem of no interest to Clint Eastwood, who, before this film, had completed playing Dirty Harry Callahan in "The Dead Pool" from 1988.That is perhaps why audiences could not buy him directing himself playing a character based on Huston in "White Hunter, Black Heart" from 1990.That is a shame because the movie marked a significant shift in Eastwood's career from playing gruff, no-nonsense antiheroes like Dirty Harry and The Man with No Name to deconstructing that very persona in the movies he has directed himself in.Eastwood has been quoted as saying that he personally hates violence and his directorial efforts since then have attempted to present an anti-violence argument. For Eastwood to play a larger than life legend like John Huston (the character's name has been changed to John Wilson in the film) must have required some courage.It is a daunting challenge for an icon to play another icon and some may be a little jarred by Eastwood's imitation of Huston's swagger and mannerisms in the opening scenes.But it handsomely pays off in a complex performance that takes his typical gruff, do-as-he-wants persona and deprives it of the masculine heroics. The beginning scenes of the movie feel a little disjointed and do take a while to take form.We first see Pete Verrill (Jeff Fahey), the Peter Viertel counterpart, meet Wilson in his large mansion in London to discuss the script and write the final draft.The various scenes work well freestanding, including one where Wilson stubbornly insists on his need to shoot in Africa for authenticity in front of the film's producer, Paul Landers (George Dzundza) and the financiers.Yet somehow the expository moments of Wilson taking Verrill under his wing to lavish dinners lack cohesion. Once they move to Congo and Uganda, the film takes shape into a journey of obsession.Wilson becomes entranced with the thought of killing an elephant, despite repeated warnings that they are already behind schedule on the film's shooting.Verrill serves as the crucial observer and the voice of reason.Not that Wilson really ever cares to listen, until it may be too late. There is a scene early in the film that immediately lets us know that this is not going to be any kind of exciting action film or safari adventure.Wilson is mad at a British man who is being racist at a Ugandan waiter and picks a fight with him.We first see him winning until the tables quickly get turned and he gets pummeled to a pulp.This sets up the rest of the film, which strips away the heroics and the potential for cathartic release of violence found typically in Eastwood's action pictures. Why is Wilson so bent on bagging an elephant?When Verrill finally confronts him, he does give an answer, which I won't reveal, except to say that it does not make his obsession any more comprehensible or justifiable to Verrill, Landers or anyone else. The buried implication is that a deep obsession by nature obliterates any sense of motive or purpose, if it ever existed at all. "White Hunter, Black Heart" is not quite up there with Clint Eastwood's great films like "Unforgiven" and "Letters from Iwo Jima" but it stands as one of his most interesting and ambitious efforts.It also serves as a key to understanding Eastwood himself, who has made a prestigious, highly personalized career from bucking his familiar character trends of yesteryear while working almost completely outside the normal Hollywood studio system.He has indeed continued to build an impressive resume as a filmmaker and he will perhaps also be remembered as a legendary director, just like Huston.
David Ladd
Super Reviewer
Good drama like the making of The African Queen, but it's not real.
Dean McKenna
Super Reviewer
White Hunter Black Heart Quotes
There are no approved quotes yet for this movie.