White Irish Drinkers
(2011)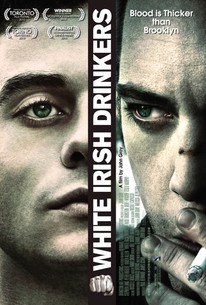 White Irish Drinkers Photos
Movie Info
Two young men are looking for a better life but may have to go to the wrong side of the law to get it in this independent drama from director John Gray. Brian Leary (Nick Thurston) and Danny (Geoff Wigdor) are brothers living in a decaying Brooklyn neighborhood in 1975. Tired of dealing with their angry and abusive father (Stephen Lang) and high-strung mother (Karen Allen), both Brian and Danny want to move out and do something different with their lives, but their ambitions travel different paths. Danny, the older brother, is a petty criminal who is trying to finance a new life one hold-up at a time; Brian, meanwhile, works at a movie theater and paints in his spare time, though he doesn't tell anyone about his dreams of becoming an artist. Brian thinks he might be able to bankroll a few years at art school when Whitey (Peter Riegert), the manager of the theater, tells him they have a shot at booking the Rolling Stones for a special show at the theater, which would mean a big payday for everyone. But when Danny hears about the big show, he starts making plans of his own to rob the box office the night of the concert. White Irish Drinkers received its world premiere at the 2010 Toronto International Film Festival. ~ Mark Deming, Rovi
Critic Reviews for White Irish Drinkers
Audience Reviews for White Irish Drinkers
While Brian(Nick Thurston) does not mind accompanying his older brother Danny(Geoffrey Wigdor) on his jewlery robberies, he does draw the line at holding onto a gun for him. Otherwise, Brian uses art to distract himself from his abusive father(Stephen Lang) and his mother's(Karen Allen) idiosyncratic cooking and to meet women like Shauna(Leslie Murphy). For money, Brian works part-time at the moribund Lafayette Theatre where its owner Whitey(Peter Riegert) has just landed the Rolling Stones for a one hour concert which may yet save things. "White Irish Drinkers" is what we mean when we call a movie a mixed bag. On the one hand, you could occupy yourself by playing spot a cliche like brothers heading in opposite directions and incredibly prescient characters in a period piece.(However, one prediction turned out to be wrong since the movie was made.) In other ways, the movie takes full advantage of its time and place, like remembering old movie palaces in a time when New York City, not only Brooklyn, was going to the dogs, forcing many characters to choose between security and any dreams they might have.(What are the chances somebody would be reading the Daily News with the legendary cover, "Ford to NYC: Drop Dead?") To be honest, even if the movie had stopped after Brian's window painting, I would have recommended it, even without all the other cool moments. Plus, everything does neatly dovetail right at the end, rather unexpectedly. That's not to mention the fine work by the young cast, nor my eternal soft spot for Karen Allen.
½
In Brooklyn in the 70's there's only 2 kinds of people: those stuck there in lower middle class doldrums or those who get out. Although cliched the performances save this trifle about two brothers (one's a crook and one ain't). Stephen Lang does well as the bad parent.
Kevin M. Williams
Super Reviewer
½
Excellent movie! Refreshing script, excellent acting. I really liked the pace of this movie, and the subtle camera work. Fantastic ending, also, which often seals the deal for me when it come to really good movies. Kudos!
Cynthia S.
Super Reviewer
White Irish Drinkers Quotes
| | |
| --- | --- |
| Shauna: | Do you dare me to take all my clothes off and run through this cemetery naked? |
| Brian: | I'm not going to dare you, but I might beg you... |
| | |
| --- | --- |
| Shauna: | You're not going to ask to draw me naked, are you? |
| Brian: | No, I always wear clothes when I draw... |
| | |
| --- | --- |
| Patrick: | Hey Brian, what's a Irish seven-course meal? |
| Brian: | Six pack and a potato. |
| Patrick: | What, that's not funny? |
| Brian: | I heard it. |
| Patrick: | Gets a laugh down at Clancy's every time. |