White Lightning
(1973)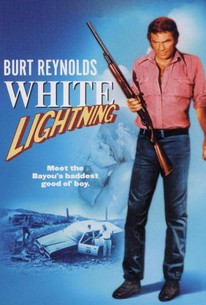 Movie Info
When the police pick up Gator McKlusky (Burt Reynolds) for running moonshine, they agree to let him out of jail if he will help them capture the key figures in his moonshine operation. Since the suspected ring leader is the man who killed Gator's little brother, he agrees to help out the cops to get himself out of prison and get his revenge. ~ Iotis Erlewine, Rovi
Critic Reviews for White Lightning
Audience Reviews for White Lightning
Willie Mayes Hayes is Black Hammer! Jesse 'The Body' Ventura is White Lightning! Together they're taking on the mob...oh shit wrong film! Wait, its not even an actual film. Back in his early days of acting good old boy Burt Reynolds was definitely more of a serious actor. Yes much of his work was still based around comedies but they still had drama included. 'White Lightning' was one of Reynolds last movies to showcase him as a more serious character actor before he started to slip into more frivolous roles which seemed like spoofs more than anything. Essentially this was a Burt Reynolds movie where we didn't see him mugging for the camera or messing around with his other A-list star buddies. I'm honesty not really sure how Reynolds became this icon of the south (being born in Michigan), but yet again his character here is a typical good ol' boy criminal type serving time for running moonshine. His name is Bobby 'Gator' McKlusky...because that's a really cool southern sounding name obviously. Whilst serving time (for runnin' moonshine) Gator's brother is murdered by a corrupt local sheriff. Knowing that this sheriff is taking money from other illegal moonshiners, Gator agrees to go undercover for the Department of Justice to bring him in. Of course Gator isn't interested in bringing the sheriff in, he wants revenge. Anywho that's it, that's the plot, you can guess how it unfolds I'm sure. Being a movie genuinely filmed in the south during the early 70's everything does look generally grim. Many of the cars we see are rust buckets, the local towns look a bit squalid in places, the locals look quite poor, building interiors are plain and basic, and the prison looks like something outta 'Papillon' (I exaggerate somewhat of course). But next to that you also have the more upbeat side to the south we recall from the movies, such as pool halls, bars, muscle cars, big rigs, stetsons and young easy women in cut-off jeans. In an Arkansas prison is where we find Gator as he is informed his brother has been killed. Right there and then Gator decides to escape...and does just that! No seriously, he literally walks off and simply climbs a few fences and runs off! What the hell kind of prison is this?? He does of course get captured quite quickly, luckily he's friends with the warden so its kinda overlooked. They basically blackmail him into going undercover, but in a friendly way. From here we follow Gator as he slowly makes his rounds gathering information. This essentially means visiting many local establishments and trying to charm the hicks into dishing the dirt. Gator must also try and sneak himself into the moonshine runnin' game, a difficult task to be sure. This in itself offers up a wide array of stereotypical southern hillbilly types that generally look unwashed in their grubby sweat stained attire. Eventually Gator does manage to hook up with Roy (Bo Hopkins) to run moonshine; and at the same time get involved in a curious love triangle between Bo and his girlfriend Lou (Jennifer Billingsley). Not really sure why this is, I'm guessing to simply give Reynolds a love interest. Naturally being an early Reynolds movie you can expect car chases. Yep before he was runnin' with beer as the Bandit he was runnin' with moonshine as the Gator. Unfortunately these car chases are nowhere near as good as the Bandit's wheel spinnin' antics. One car chase sees Gator confusing, shaking and avoiding the cops through the town in his very brown 1971 Ford Custom 500. This is a reasonable car chase that will kinda satisfy you. It ends with Hal Needham ('Smokey and the Bandit' and 'The Cannonball Run') jumping the car onto a moving barge which almost failed (but they kept it in). There are plenty of other vehicular tidbits throughout including the obligatory track event but nothing to wow you. Although the cars are a major part of this movie, characters in their own right and of historical interest, if you're a petrolhead this movie isn't gonna do it for you methinks. It merely offers a glimpse of what was to come with Reynolds and co. Overall this movie is generally pretty dull truth be told, nothing much really happens as you watch Gator plod through the sweltering heat of the south. Ned Beatty is definitely a solid villain as the corrupt Sheriff J.C. Connors and almost makes up for a lack of engagement. He is certainly intimidating with his large appearance, bad teeth and receding hairline (deliberately shaved that way). He almost looks like a Nazi Officer with those round spectacles, but alas he does little. On the flip side, there is a decent sequence where Gator visits his parents. There he must face his fathers disapproval of him handing over names of folk involved in illegal liquor to the Feds. The opening sequence of the movie shows Sheriff Connors slowly rowing out into the middle of an isolated swamp, either at dusk or early dawn. Behind him is Gator's brother bound and gagged in another small boat. They reach a point and stop. The sheriff then shoots the bottom of the boat with a shotgun and rows away leaving the restrained young man to slowly drown as the boat sinks. This sequence is dark, sinister, brutal and most definitely has a 'Deliverance' vibe about it (the landscapes are definitely another form of character in this movie). The thing is its in complete contrast to the rest of the movie which at times feels like a slightly adult version of [i]The Dukes of Hazzard[/i] or 'Smokey and the Bandit'. A strange blend of tones in this movie for sure, a bit hit and miss.
Phil Hubbs
Super Reviewer
White Lightning may not have aged well in the past 40 odd years, but in some ways, that's part of the charm. The start of the Burt Reynolds' "Hick Flick" run, and it has to be noted for that.
½
Both a hoot and a holler!
Ken Stachnik
Super Reviewer
White Lightning Quotes
There are no approved quotes yet for this movie.