White Palace
(1990)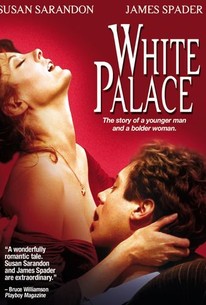 Movie Info
Screenwriters Ted Tally and Alvin Sargent adapted the novel by Glenn Savan into this intelligent drama about a May-December romance where the woman is the senior partner. James Spader is Max Baron, a 27-year-old St. Louis advertising executive who has completely shut himself off from the world in the two years since the auto accident death of his wife. When he meets free-spirited, 43-year-old burger joint waitress Nora Baker (Susan Sarandon), his attraction to the earthy, outspoken woman is immediate and overpowering. The difference in age isn't their only obstacle happiness: Nora's into Marilyn Monroe, drinking beer, and lives in Dogtown, the city's low-rent district, while Max is cultured, sophisticated, and wealthy. Despite their differences, Max and Nora are alike in their suffering and in their deep need for connection, but their charged relationship is put to the emotional test when it becomes clear that Max is hiding his affair with Nora from his upper middle-class, Jewish social circle. White Palace co-stars Renée Taylor, Eileen Brennan, Kathy Bates, Jason Alexander, and Corey Parker.
Critic Reviews for White Palace
Audience Reviews for White Palace
Sure it isn't a great movie but I like the unlikely chemistry between Susan Sarandon's character and James Spader's. It works in a really humourous way.
John Ballantine
Super Reviewer
½
Firstly I will say that I wouldn't have heard or watched this had James Spader not been in it. And I'm pretty biased with Spader movies, because he's James Spader. So that's why it has such a high rating. Romance in any form (except gay romance!) bores the hell out of me, and I never go anywhere near it. I don't like Susan Sarandon either. But, I figured it's got James Spader in it, so even if it's boring as hell, there's James Spader. So, the plot isn't interesting to me, and honestly the whole movie was pretty lame, but as I keep saying: JAMES SPADER. I don't really know what to say about it, but it probably isn't worth watching unless you're majorly obsessed with James Spader like I am.
Lauren Donis
Super Reviewer
First off, for all you flixsters who live in the Seattle area, I gotta envy you all being able to read Paula Nechak movie reviews all the time. Team flixster scoring her reviews is wonderful. I've read many synopses on this site, but I have to say that this one about White Palace is the most interesting one I've ever run across.
I definitely agree with Nechak's assessment of the fairytale element of this movie. It's hard to imagine this pair making a permanent match. But it's Hollywood, baby, so what happens . . . happens.
Had to add Sarandon to my favorite actor list right away. Stunning. She always is; she should have been on my list earlier. Eileen Brennan, in a small role, is mesmerizing. Not to mention that this was Spader when he had his stuff. A great movie, especially thanks to Susan Sarandon. Definitely, as Nechak says, Oscar-worthy work. Reminds me so much of Atlantic City.
Lanning : )
Super Reviewer
White Palace Quotes
| | |
| --- | --- |
| Max Baron: | There's no DUST in her DUSTBUSTER!! |
| Max Baron: | There's no DUST in her DUSTBUSTER! |