White Rabbit
(2015)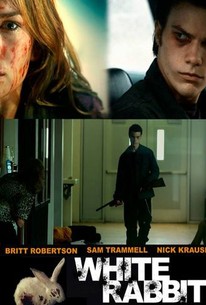 Movie Info
Harlon Mackey (Nick Krause) has been tormented by visions since his alcoholic father (Sam Trammell) forced him to kill an innocent rabbit while hunting as a boy. Now that Harlon is a bullied high school student, his undiagnosed mental illness is getting worse. He begins to hear voices and his imagination encourages him to carry out violent acts. Things begin to look up when Julie (Britt Robertson), a rebellious young girl, moves to town and befriends Harlon... But when she betrays him, the rabbit along with other imaginary comic book characters taunt him into committing one final act of revenge.
Critic Reviews for White Rabbit
Audience Reviews for White Rabbit
Coming of Age films are among my favorite types of movies, but if you're a fan of the genre, you know there are often a lot of strange stories out there, perhaps none stranger than White Rabbit. This film follows Harlon Mckay (Nick Krause), who is a very strange kid, one that is often bullied. Harlon is very easily influenced by other people, as is evident by the scenes with his co-stars. When he's with his best friend, whose immature, they do kid things, and when he meets a bad girl, who doesn't stay in on place very long, Harlon gets into some trouble himself. There's no doubt that Harlon is strange, but so are the circumstances surrounding him. Newcomer Nick Krause plays the troubled lead and he really was terrific. In ninety minutes, this kid must of changed personalities a dozen times, and all of them were tremendous. White Rabbit is very weird, a little creepy, and nothing special until a shocking ending changes everything. Sometimes how you see a film can be changed by an ending that just blows the mind and answers a million questions at once. That is what happens here, and that is the only reason I recommend watching this film. As I've been saying, it's really strange and some parts are hard to sit through, but in the end, you'll be left thinking about what you just saw and wondering about each and every scene. Honestly, it's the kind of film you really need to see more than once if you're hoping to catch everything.
Todd Smith
Super Reviewer
White Rabbit Quotes
| | |
| --- | --- |
| Harlon Mackey: | Sometimes things happen in your life and it doesn't seem like much at the time, but it changes everything. |
| Harlon Mackey: | You can change somebody, if you try real hard. |
| Harlon Mackey: | In some point, you learn to shoot just like you learn to walk. |
| Harlon Mackey: | You're supposed to talk to god, but he never talked to me. Instead, all these other things started to. |
| | |
| --- | --- |
| Harlon Mackey: | Sometimes things happen in your life and it doesn't seem like much at the time, but it changes everything. |
| | |
| --- | --- |
| Harlon Mackey: | Sometimes things happen in your life and it doesn't seem like much at the time, but it changes everything. |