The White Ribbon (Das weisse Band)
(2009)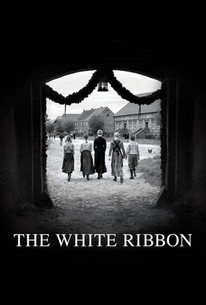 TOMATOMETER
AUDIENCE SCORE
Critic Consensus: The White Ribbon effectively utilizes tension and a bleak atmosphere to deliver a thought-provoking examination of nascent fascism.
The White Ribbon (Das weisse Band) Photos
Movie Info
Set in a Northern German village before World War I during the decline of the Austro-Hungarian empire, depicts the emergence of national socialism.
News & Interviews for The White Ribbon (Das weisse Band)
Critic Reviews for The White Ribbon (Das weisse Band)
Audience Reviews for The White Ribbon (Das weisse Band)
½
Michael Haneke has pushed the bounds of what is and could be considered going too far in the film medium, which is his whole mantra. He brings us The White Ribbon, something like if you took elements from The Crucible, Schindler's List, and Jesus Camp blended it together, and put it all in German with a drained out final image with a dash of fascism, unknown motives and religious fundamentalism. This extraordinarily stark and innovative film comments very boldly and brashly on "the origin of every type of terrorism, be it of political or religious nature." The acting is decidedly honest and quite life-like. The cinematography continues to add layers to the reality of the film and Haneke's direction couldn't be more appropriate to bring his screenplay to life. And the filmmaking style of this film is pure Haneke, utilizing long takes, tracking shots and manipulating the world in front of the camera to unsettle you and provoke thought, very few directors can achieve this multiple times, he achieved it with both renditions of his film Funny Games, and he most certainly did it here. Brava.
Matthew Roe
Super Reviewer
A nuanced, demanding film about small-town secrets that rivals the best stories of Alice Munro or William Faulkner, in which characters' lines are cutting, doom is just around the corner, and the individuals' respective stories continue to surprise as each reveals itself to be related to the others in larger frame, the life of a town (Eichwald) and the narrating school teacher. Great story, well told, and though it's lean (basically, one setting over one year, and a deservedly abrupt ending), there's a lot going on here, plot-wise and meaning-wise, with symbolism and metaphysical engagement to spare. Reminded me, too, of Hitchcock, in that the most horrific is the off-stage stuff, and for a reason that I hope is more than "because it's European and in black and white," Ingmar Bergman's The Seventh Seal... and, though set in pre-WWI Germany, it's a story that has no trouble resonating today because of its (unfortunately) universal subject matter. A worthy Palme d'Or winner that moves slowly but stays captivating all the way. Definitely a film you should see.
Daniel Perry
Super Reviewer
½
The White Ribbon is a dark, depressing account of human nature and innate, or learned, violence. Eerily beautiful, but the meanings and metaphors are too subtle, vague, and complex. Perhaps a metaphor to human nature itself? Enigmatic.
Jan Marc Macababayao
Super Reviewer
The White Ribbon (Das weisse Band) Quotes
| | |
| --- | --- |
| The Narrator: | I don't know if the story that I want to tell you, reflects the truth in every detail. Much of it I only know by hearsay, and a lot of it remains obscure to me even today, and I must leave it in darkness. Many of these questions remain without answer. But I believe I must tell of the strange events that occurred in our village, because they may cast a new light on some of the goings-on in this country... |