White Squall
(1996)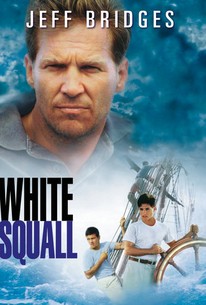 TOMATOMETER
AUDIENCE SCORE
Critic Consensus: Though it gets occasionally bogged down by touchy-feely sentiment, White Squall benefits greatly from Jeff Bridges' assured lead performance and Ridley Scott's visceral, exciting direction.
Movie Info
Based on a true incident from 1960, White Squall is the story of the tragic sinking of the Albatross, a prep school educational two-masted schooner, during a Caribbean storm. Screenwriter Todd Robinson wrote the script after meeting one of the tragedy's survivors, Chuck Gieg. In the film, Gieg (Scott Wolf) is the narrator. He and his fellow students, whose parents have paid handsomely for their schooling, which combines classroom work with real-life adventure, are introduced to their grizzled seafaring captain, Christopher Sheldon (Jeff Bridges). Gieg is initially skeptical of Sheldon's authority, but he gradually comes to see the captain as a model of manhood. The other boys aboard include Frank Beaumont (Jeremy Sisto), a self-absorbed snob; Dean Preston (Eric Michael Cole), a troublemaker and bully; Tod Johnston (Balthazar Getty), a returning student; and the naïve Tracy Lapchick (Ethan Embry). John Savage plays the pompous English teacher aboard the ship. Various incidents establish the boys' insecurities and relationships with the authorities -- and foreshadow their eventual fate. The killer squall comes up quietly but soon turns deadly, and the boys are forced to go beyond their privileged upbringings and deal with real danger. ~ Michael Betzold, Rovi
News & Interviews for White Squall
Critic Reviews for White Squall
Audience Reviews for White Squall
The strongest force in nature is the will to survive.
A group of teenage boys learn discipline, courage, and what it's like to stick together as a unit as they aboard the Albatross and ride it out into the great wide open in the Caribbean. Whether they're there because their parents want them to grow up and learn responsibility, or whether they're there because they want to be, they will all learn the comraderie, the hardships, and everything else that goes along with traveling to sea. All of the good and the bad must come together when the Albatross runs into a white squall, a MAJOR storm at sea. How could anybody not love "White Squall"? There are a lot of great movies about going out to sea, and "White Squall" is up there with the best of them. It's not like "Crimson Tide", "U-571", and those; it's a spectacular coming of age film that has nothing to do with war. Scott Wolf, Ryan Phillippe, and the rest of the crew do a good job of acting, and Jeff Bridges does the best of all in portraying the sternness, yet warm-hearted character that is the Skipper. If you're a fan of coming of age movies like "Stand By Me", and if you like very entertaining movies that explore the hardships of life to a tee, get "White Squall" right NOW! It's one of the best movies you've never heard of. Example line from the movie: "I don't want it to end. I don't want to go back to what I was before I came here: anonymous." NOTE: That was my Amazon review from the year 2002.
Jason Owens
Super Reviewer
One of Ridley Scott's less interesting offerings, this ocean bound adventure is typically nicely shot, but the onboard soulsearching is contrived and uninteresting. An interest in and knowledge of sailing would probably help. But I have neither.
White Squall Quotes
There are no approved quotes yet for this movie.