White Zombie
(1932)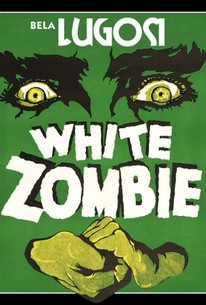 Movie Info
The homicidal madman ruling over a tiny tropical island helps a wealthy fellow claim an unwilling girl by turning her into a living-dead zombie but ultimately decides to keep her for himself. This ghoulish, still-chilling low-budget classic is drenched in atmosphere and boasts one of Bela Lugosi's finest performances.
News & Interviews for White Zombie
Critic Reviews for White Zombie
Audience Reviews for White Zombie
Overlooked perhaps, but this is one of the greats of the genre and due largely to (dare I say it?) the hypnotic performance of it's star, Bela Lugosi. Mesmerizing. And yes, zombies too, but such is Lugosi's chi that his minions are actually less frightening than Lugosi himself. How good is this? It challenges his performance in Dracula.
Kevin M. Williams
Super Reviewer
½
Shortly after his iconic turn as Dracula, Bela Lugosi made this-the first ever zombie film. It's worth noting that this is also an independent film, not made by Universal or some other major studio. That's perhaps why this one seems to be overlooked more often than not. This is a zombie picture nothing like the kind made by Romero, and others following in his footsteps. Because of this, some viewers may find the film disappointing. I kinda liked it. Despite a short running time, it is rather slow, but the pace just adds to the atmosphere-which is done really well. Given the age of the film, it's surprising that there's some ambition here-especially with the camera work, which features cool and unique dissolves/transitions, framing through objects, and a long take (lasting several minutes) during a conversation that reveals important plot info. Despite its obscureness, the film does have an interesting legacy. Rob Zombie's band (before he went solo) took their name from this movies, which I think is just fine.
Chris Weber
Super Reviewer
White Zombie is another early Bela Lugosi vehicle, this time he plays an evil voodoo witch doctor who's creating an army of zombies to do his bidding. A young couple recently arrives in Haiti to get married at their friend's estate. But their friend has ulterior motives for inviting them. He's determined to steal her away from the groom. With the help of the evil Legendre (Lugosi), he slips her the zombie potion on her wedding day. However, he has her as a zombie, and where's the fun in that? Lugosi as Dracula and as Legendre does the hypnotic stare and also does a lot of things with his hands. In fact, he might be doing much the same character, just different make-up. The rest of the cast is pretty undistinguished, and apart from it's notoriety as the first "zombie movie" there isn't much reason to watch this. It's rather dull and uninteresting by today's standards.
Devon Bott
Super Reviewer
White Zombie Quotes
There are no approved quotes yet for this movie.