Jackie Chan's Who Am I? (Wo shi shei) (Who Am I?)
(1998)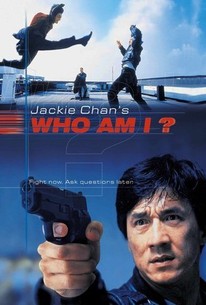 Jackie Chan's Who Am I? (Wo shi shei) (Who Am I?) Photos
Movie Info
Jackie Chan wrote, directed and stars in this English-language action-comedy tale of about a commando group that travels to South Africa to kidnap scientists working on new energy sources. However, a Washington-based cover-up requires a downed plane after completion of the mission, and Jackie is the only survivor of the plane crash. When the crash trauma leaves him with amnesia, his question, "Who am I?" becomes his name -- Whoami. Recognized by CIA agent Morgan (Ron Smerczak), Whoami learns covert operatives have sent assassins to eliminate him, and the martial arts footwork gets fancy with Whoami heading to Rotterdam in hopes of recovering his memory. ~ Bhob Stewart, Rovi
Critic Reviews for Jackie Chan's Who Am I? (Wo shi shei) (Who Am I?)
All Critics (9) | Fresh (6) | Rotten (3)
The unnecessarily complex script is written by Chan himself - and actually interferes with the arrival of the martial arts sequences.
One of Jackie Chan's best. A compelling mystery plot and some of the greatest action he's ever done. The rooftop fight is brilliant.
July 14, 2003 | Rating: 4/5
Audience Reviews for Jackie Chan's Who Am I? (Wo shi shei) (Who Am I?)
Easily Chan's best film. Solid story telling that keeps the viewer guessing, enough emotion to keep us from sitting in the shallow end and definitely includes the charm of Chan's signature comedy-action. But where it shines are the set pieces and action sequences that don't feel like a derivative of his Police Story films, there's always something exciting to look forward to as whoami runs around the world "battling" villains one way or another. Ah the villains, generic and cardboard as always but who expects better from a martial arts / action film from the 90's?
Drake Tsui
Super Reviewer
½
excellent stunt work, a decent story, and a phenomenal fight scene at the end of the film help contribute to this being one of jackie chans absolute best action films. in some of chans films the stunts are forced even when theyre good, and this film avoided that contrived feeling and kept me thoroughly entertained the entire way through. the story was built on multiple misunderstandings among the characters, and this also felt reasonable as the gimmicks were executed very well. excellent action film.
"Jackie Chan's Who Am I?" was written and directed by Jackie Chan himself, he also stars in the movie. He is a special forces agent who was accidentally dropped from a soaring helicopter and he plummeted to the earth so fast and hard that it gave him a shot of amnesia. Now, Jackie Chan is wanted just about everywhere because he is a missing person, but he has to deal with the enemies who have a mysterious disk because they want to kill him. On top of that, he really doesn't remember anything because of the amnesia, he doesn't even know who he is. "Jackie Chan's Who Am I?" is a great Jackie Chan action movie. Parts of it such as when Jackie is trying to help a man cure a snake bite and he chews up a plant that makes his mouth numb, are funny. Other parts of the movie such as when Jackie makes his first escape from his enemies from the top of a tall building, the fighting scenes, and the car escape sequence are nonstop and edge of the seat action. "Jackie Chan's Who Am I?" has some of the best and most exciting action ever seen in any movie. The plot is understandable enough and the acting isn't bad either. But the action sequences are what you'll never forget about this movie. If you like great martial arts movies or action movies, I definitely recommend getting "Jackie Chan's Who Am I?" NOTE: That was a copy of my Amazon review from the year 2000. I need to see more Jackie Chan movies.
Jason Owens
Super Reviewer
Jackie Chan's Who Am I? (Wo shi shei) (Who Am I?) Quotes
| | |
| --- | --- |
| Jackie (aka Whoami): | I might have amnesia, but I'm not stupid! |
| Jackie (aka Whoami): | I may have amnesia, but I'm not stupid! |
| | |
| --- | --- |
| Jackie (aka Whoami): | Someone bring my memory back! |