Who Framed Roger Rabbit
(1988)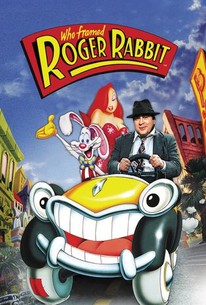 TOMATOMETER
AUDIENCE SCORE
Critic Consensus: Who Framed Roger Rabbit is an innovative and entertaining film that features a groundbreaking mix of live action and animation, with a touching and original story to boot.
Who Framed Roger Rabbit Videos
Who Framed Roger Rabbit Photos
Movie Info
In this film, Hollywood's animated cartoon stars of the 1940s are a subjugated minority, living in the ghettolike "Toontown" One of Toontown's leading citizens, whacked-out Roger Rabbit, is framed for the murder of human nightclub owner Marvin Acme. Private detective Eddie Valiant reluctantly agrees to clear Roger of the accusation.
News & Interviews for Who Framed Roger Rabbit
Critic Reviews for Who Framed Roger Rabbit
Audience Reviews for Who Framed Roger Rabbit
½
While being late to the game for this one, I did my best to go into this with a very open mind; however, lead to believe this was just a wacky tale of humans and cartoons, I was not prepared for such an intimate story. After it's crazy opening sequence it slows way down almost to the point of exhaustion, before kicking back up and making me love it. "Who Framed Roger Rabbit" is more of a drama than a comedy, which is definitely not what I was expecting. I do feel like the film could have used a bit more humour. Charles Fleischer does a fantastic job voicing the rabbit and I really enjoyed Bb Hoskins as the counterpart; however, Christopher Lloyd, although a great actor, did not do much for me here. This film is a lot of fun to watch, but I just do not see the critical praise it get's. For a family friendly film, it has a much better story than your average film, but there is not really much else to say. I definitely recommend this film for it's originality, but that is about it.
***** Last week I was picking up some DVDs and figured I would look at the shelf of Blu rays and see what they had. Low and behold I saw this sitting there and immediately thought "I must show this to Grant!" It's been years since I've seen this(I saw it in the theater and we had it on VHS growing up), and I'm happy to say this movie hasn't aged a bit. Especially on Blu-Ray, it still looks fantastic and it's as funny and wacky as ever. For those don't know about this movie, go get a copy at the video store or watch on Netflix(it just got added the other day) as soon as possible. Grant laughed a few times, but he's 2 and doesn't yet understand most of it. Actually, this movie has a lot more curse words than I remember, so just beware before showing to kids. I'm no father of the year, but I still think kids should see this because it's awesome(I was 5 when it came out and I turned out alright). I've had a bunch of debates on who's hotter, Jessica Rabbit or Smurfette(yeah my coworkers and I are sick),and Jessica takes it by a long shot after re-watching this. Also interesting note, this is the only movie that Bugs Bunny and Mickey Mouse share a scene together. Go back and re-watch this for a laugh and a reminder of how awesome animation used to be and can still be.
Everett Johnson
Super Reviewer
This movie is truly one of its kind. It's not really a kids movie, nor can it be classified as intended for adults only. It lands somewhere in between, in the blurry greyzone, where everyone may enjoy it on some level, no matter your age. The only other film I can think of, that goes along the same lines (mixing live-action with cartoons), is Space Jam, altough it's far from as brilliant and memorable as Who Framed Roger Rabbit is.

The story is quite wonderful, the effects very good for their time, and it's an 80's classic that endures several re-watches (I reckon this is the 4th time I see it).

Simply put: Hollywood magic at its finest hour.
Who Framed Roger Rabbit Quotes
| | |
| --- | --- |
| Eddie Valiant: | What a wife. |
| | |
| --- | --- |
| Judge Doom: | Remember me, Eddie? When I killed your brother, I talked just like this! |
| | |
| --- | --- |
| Roger Rabbit: | You saved my life! How can I ever repay you? |
| Eddie Valiant: | For starters, don't ever kiss me again! |
| | |
| --- | --- |
| Porky Pig: | Th-Th-Th-That's All, Folks! |