Who Is Cletis Tout?
(2002)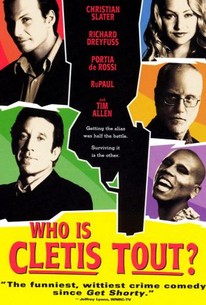 Who Is Cletis Tout? Photos
Movie Info
Standup comedian turned director Chris Ver Weil makes his debut with this wild and woolly romantic comedy cum noir crime thriller. The film centers on Trevor Finch (Christian Slater), a master counterfeiter and career con who learns that he has a price on his head from mob hitman Critical Jim (Tim Allen). The reason turns out to be a wacky case of mistaken identity -- Finch has assumed the name Cletis Tout, a sleazy, long-dead French muckraker with, it turns out, a criminal history himself. Rewind to 1977, when Micah (Richard Dreyfuss) pulls off a massive diamond heist and buries his booty in a field with the help of his young daughter Tess. Five presidential administrations later, Micah and his cellmate Finch bust out of prison, only to learn from the now-grown Tess (Portia de Rossi) that the diamonds are behind the walls of another newly built prison. Meanwhile, sparks begin to fly between Tess and Finch. This film was screened at the 2001 Toronto Film Festival.
News & Interviews for Who Is Cletis Tout?
Critic Reviews for Who Is Cletis Tout?
Audience Reviews for Who Is Cletis Tout?
½
Mildly entertaining. Storyline was only ok, but presented in a unique narrative style. Ru Paul's character was unnecesary, and distracting. Doesn't work on every level, but not too bad. Passed away an afternoon for me...
Cynthia S.
Super Reviewer
Christian Slater stars as a crook who gets a new identity after breaking out of prison. He's given the name Cletis Tout, which turns out to be the name of someone the mob wants dead. While Slater is looking for a box of diamonds that his friend (Ricard Dreyfuss) in prison hid when he was younger, he gets help from Dreyfuss' daughter (Portia de Rossi). The movie wants to be a smart Get Shorty type of mob comedy, but it never reaches that level. The only reason to watch this movie is for the performances. Believe it or not, but Tim Allen steals the show as a movie loving hit-man. Tim Allen shows here and Redbelt that he's wasted in the crappy family comedies that he usually makes. The guy can actually act and can handle more serious roles. Although, I wouldn't mind seeing him as "Tim the Tool Man Taylor" one more time lol.
Who Is Cletis Tout? Quotes
There are no approved quotes yet for this movie.