Who Is Henry Jaglom?
(1995)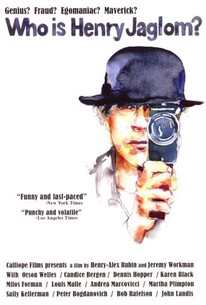 Movie Info
Henry Jaglom is a filmmaker who was a pioneer of the independent film movement long before it had a name. Jaglom began his Hollywood career in the mid-Sixties as an actor, but in 1971 he wrote and directed his first feature film, A Safe Place, which starred his friends Orson Welles and Jack Nicholson; it was an offbeat, personal work which received mixed reviews, setting a standard that many of Jaglom's future works would follow. After A Safe Place bombed at the box office, Jaglom began making films on tiny budgets which he often released himself, allowing his actors plenty of room to improvise and often dealing with women's issues in an intense and emotionally compelling manner. Jaglom has a significant cult of admirers, and a number of notable actors work with him at a fraction of their usual salaries, but his eccentricity and knack for self-promotion has rubbed a few people in the movie business the wrong way, and while some critics regard him as a singular talent, others consider him an overbearing con artist. Both Jaglom's supporters and detractors get a chance to air their opinions in Who Is Henry Jaglom?, a documentary about the filmmaker which offers a look at his movies, his life before and behind the camera, and the actors and craftspeople who've worked with him and have their own stories to tell. Jaglom himself is also extensively interviewed, and contributes a wealth of footage from his archives. Who Is Henry Jaglom? includes interviews with Candice Bergen, Karen Black, Dennis Hopper, Andrea Marcovici, Sally Kellerman, Martha Plimpton and many more.
Critic Reviews for Who Is Henry Jaglom?
Audience Reviews
There are no featured reviews for Who Is Henry Jaglom? at this time.
Who Is Henry Jaglom? Quotes
There are no approved quotes yet for this movie.