The Whole Wide World
(1996)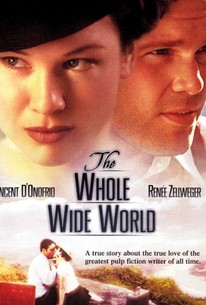 The Whole Wide World Photos
Movie Info
A touching and unusual love story, The Whole Wide World was based on a memoir by Novalyne Price Ellis, in which she recalled her brief romance with Robert E. Howard, creator of Conan the Barbarian and one of the finest and most prolific pulp writers of his day. In 1933, Novalyne Price (Renee Zellweger) is a pretty but shy Texas schoolteacher who would like to be a writer some day. A friend offers to introduce her to Howard (Vincent D'Onofrio), who writes broad, bold yarns about superhuman heroes and damsels in distress and has little patience for writers of more pretentious fiction. Novalyne likes Howard and he seems to like her, but she finds him a hard man to deal with. He lives in the world of his stories, and he devotes as much time as possible to his bedridden mother, which leaves him little time to pursue a romance. But when Howard discovers that another man has been courting Novalyne, he's heartbroken -- even if they didn't have a conventional romance, he felt there was a special emotional bond between them, and he hates to see it thrown away. Renee Zellweger and Vincent D'Onofrio both deliver fine performances and are a believable (if unconventional) romantic couple; D'Onofrio also co-produced.
Critic Reviews for The Whole Wide World
Audience Reviews for The Whole Wide World
Nicely done bio-drama based on the book written by Novalyn Price Ellis. It's about time we witnessed a woman making a decision about a man via her head, not her heart. She loved him, but he was just too damaged. From what I have read about this writer, he was quite a talented, yet strange man. This is an enjoyable glimpse into the life of an amazing and complex man and the woman who, aside from his own mother, probably knew him best.
Cynthia S.
Super Reviewer
Not a bad picture. This is back in the days when Renee Zellweger was tolerable. Period pictures don't stay with me for the most part however and that is my sentiment about this one. I stopped thinking about it once it was done.
John Ballantine
Super Reviewer
Great performances from D'Onofrio and Zellweger.
Anthony Valletta
Super Reviewer
The Whole Wide World Quotes
There are no approved quotes yet for this movie.