Who's Harry Crumb?
(1989)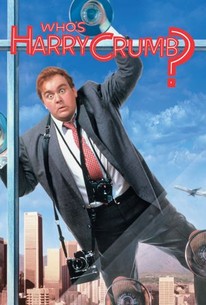 Who's Harry Crumb? Photos
Movie Info
John Candy's popularity from his appearances on the Canadian television series Second City TV did not translate into film success until he made the John Hughes comedy Uncle Buck. Who's Harry Crumb? was released just before the more well-known film, and some SCTV regulars make cameo appearances. In this farcical comedy, Candy plays bumbling Harry Crumb, scion of a family of great detectives, who works as a trainee in the agency his legendary grandparents founded. His slimey boss Eliot Draisen (Jeffrey Jones) assigns the inept young detective to find the kidnapped daughter of a multi-millionaire. The plot twist is that Draisen doesn't want the kidnappers found, for reasons of his own. While Crumb blithely bumbles along through various mishaps, Draisen tries to put the moves on the millionaire's wife (Annie Potts). Fans of Candy will probably enjoy this film, which he dominates with his comedic talents and (literally) large presence.
Critic Reviews for Who's Harry Crumb?
Audience Reviews for Who's Harry Crumb?
Bit of 80's stupidity. Sometimes that's just the thing...
Nicki Marie
Super Reviewer
The ever lovable John Candy manages to make you smile throughout this film despite it being somewhat childish with some pretty lame predictable visual gags. A simple plot involving an inept private eye trying to uncover a kidnapping and inadvertently succeeding through his own blundering, a slight copy of 'The Pink Panther' methinks but its a fun little farce giving Candy the oppertunity to try many character disguises....think 'Fletch'. Its all very silly yet likeable as Candy uses his girth in all manner of ways to make you chuckle, classic 80's actor Jeff Jones is the perfect dastardly foil to Candy with Tim Thomerson in an unusual role as a slightly useless badguy henchman. Overall you are lead through a nice array of amusing sequences which are fun, I won't lie and say they are great and hilarious simply because Candy is the star ergo they must be great as that isn't the case, if this film had been made today it would probably be long forgotten very very quickly but that also does testify to the skill and charm of Candy. Not his best film but its up there in the top five.
Phil Hubbs
Super Reviewer
½
Who's Harry Crumb? Well, it's a fun guy, but you really don't want see him. You know what i meen?
Lucas Martins
Super Reviewer
Who's Harry Crumb? Quotes
| | |
| --- | --- |
| Harry Crumb: | A book cover is only skin deep. Sometimes you have to read every word to get the whole picture. |
| | |
| --- | --- |
| Harry Crumb: | I've been so thoroughly trained that I don't even have to think before I speak. |
| | |
| --- | --- |
| Man in Apartment: | Get your butt up there Sabu! More coins! |
| | |
| --- | --- |
| Harry Crumb: | Maybe your eyes are- eh- playing tricks on me! *Chuckles* |
| Harry Crumb: | Maybe your eyes are playing tricks on me! [Chuckles] |