Why Did I Get Married?
(2007)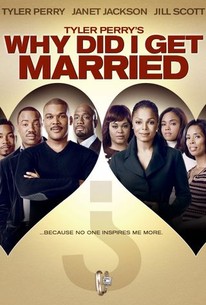 Why Did I Get Married? Photos
Movie Info
A couple (Tyler Perry and Janet Jackson) that goes on a therapeutic annual winter vacation designed to help couples work through their marital problems in a group setting finds the usual routine thrown into chaos when one of the wives arrives with a sexy young temptress in tow. Now, as the Colorado snow falls gently outside of their window, one couple will experience a bout with infidelity that will cause the entire group to question the validity of their own respective marriages. Diary of a Mad Black Woman mastermind Tyler Perry writes, produces, directs, and stars in this comedy drama that explores the complexities of modern marriage. ~ Jason Buchanan, Rovi
News & Interviews for Why Did I Get Married?
Critic Reviews for Why Did I Get Married?
Audience Reviews for Why Did I Get Married?
½
This one came up on Netflix as a rom com. Definitely more of a drama, though there were some amusing characters and situations (notably, Angela and her temper). It deals with four married couples and their issues as they gather at a retreat for a holiday. I did struggle to keep straight who was who at times, particularly with the men. It has a long run time of two hours, so it says a lot that it doesn't wear out its welcome. The most sympathetic character was Sheila . I really felt sorry for her and loathed her husband. What a pig! As others have commented, the religious undertones do get a bit much. Particularly right at the end, but I could live with it. I was just relieved they didn't have Diane popping out an unwanted second child to keep her husband happy. That does seem the norm in this genre, so I was waiting for it. Half a star added for a bit of thinking outside of the usual! Good strong female characters and beautiful scenery with the snow.
Nicki Marie
Super Reviewer
Clumsy structure? Certainly. One note characters? Perhaps. Simple answers to complex questions? Almost certainly. But know what? There's a human aspect to the film which makes it endearing and immensely watchable at the same time. Jill Scott is the absolute stand out here, going from emotionally battered to confident and sexy. Tasha Smith is a joy to watch for another reason: you're never quite sure what she's going to do or say; she's capable of anything. This Perry film isn't about race. It's about people. And despite some structure problems, it is an enjoyable story. Just don't think about it too hard.
Jason Vargo
Super Reviewer
½
Tasha Smith with her sword like words were so freaking awesome. I simply loved this movie. It's not only entertaining but also there were a lot of things to learn from it. As it's pretty much related to real life. It's like educating yourself about marriage.
Dead Angel
Super Reviewer
Why Did I Get Married? Quotes
There are no approved quotes yet for this movie.