Why Don't You Play in Hell?
(2014)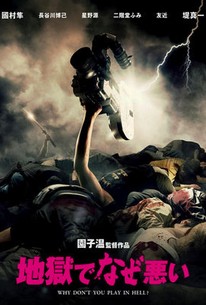 Why Don't You Play in Hell? Photos
Movie Info
Ten years ago, the Kitagawa yakuza clan attacked the Muto yakuza clan at Muto's own home, only to have Muto's wife fight back. This unexpectedly left the Kitagawa clan in shambles, with their top hitman Ikegmai wounded and Muto's wife in prison. Despite the carnage, the most unfortunate fallout from this attack is when Muto's beloved daughter, Mitsuko, has her adorable toothpaste commercial taken off the air. Now, Ikegami seeks revenge, while Muto only has one desire: to have his wife return from prison to see Mitsuko star in her first movie. Enter The Fuck Bombers, an eager but untalented group of wannabe filmmakers whose dreams of making movies have come crashing down after ten years. Circumstances have brought them to this fateful moment where they'll be able to film the climactic battle between yakuzas in an epic, over-the-top ending for the ages. Described by Sono as "an action film about the love of 35mm," and based on a screenplay he wrote nearly 15 years ago, Why Don't You Play In Hell? is among Sono's best work as his trademark excess and outrageousness is infused with an affection for the Japanese films that have come before it. This is Sion Sono at his most endearing and awesome.(C) Drafthouse
News & Interviews for Why Don't You Play in Hell?
Critic Reviews for Why Don't You Play in Hell?
Audience Reviews for Why Don't You Play in Hell?
½
I wouldn't even know how to begin describing this film's insanity. Let's start off by saying that, realistically, it isn't a very consistent film. It's not that the film is gimmicky or it's full of shtick, but there's so much going on here, so many story elements, strands, characters, themes and genres that there's bound to be some consistency issues here. Honestly, if it wasn't for the insanity that is the last act, I would've rated this film at three stars. Don't get me wrong, I thought it was a fun, and ridiculously absurd, film, but it didn't always click to me. Like I was watching this over-the-top, tribute to the greatness of 35mm film and the classics and yet parts of the film just felt really forced to me. Granted, this is is based on a script that was 15 years old, though I doubt it was filmed as is without any revisions, but there were some parts, not many, but they were there, that just felt like the film was being strange just for the fuck of it. Not to say that there isn't a purpose, or method, to its madness, but parts of it just didn't really click to me. Let me just say that this is in the minority and I thought this movie, for the most part, was quite fun, but it doesn't really kick into next gear until, obviously, the final act when it just loses its freaking mind and becomes one of the craziest Japanese films I've seen in a long time. I love the fact that these two rival Yakuza clans are allowing their legit final battle be filmed. Like the absurdity of Hirata, working with the Muto clan to film a movie starring Mitsuko, in order for her mother, once she comes out of prison, to see her as a star, going to the Kitagawa clan and trying to convince them to allow them to film this is so absurd and funny, but it works within the film's context. The third act itself is stylishly violent and over-the-top. Like I can't put it into words, it definitely has to be seen to be believed. I wouldn't say this is the perfect movie, it's quite flawed, but the fact that it embraces the crazier side of things, is joyfully manic and fast paced pretty much makes this film a blast to watch. It's a film that simply cannot be describe accurately in any review, there'll be too much that is missed, but I'd definitely recommend it. It is quite a bit of fun.
Jesse Ortega
Super Reviewer
The Japanese action dark comedy written and directed by Sion Sono was a real pleasure to watch! The screenplay was updated version of a 15-year old screenplay written by Sono, and has been described by him as having similarities with Quentin Tarantino's Kill Bill. Charming acting team led by Jun Kunimura with stars Shinichi Tsutsumi, Fumi Nikaido, Tomochika, Hiroki Hasegawa and Gen Hoshino was superbly cast. The story of Muto (Jun Kunimura) and Ikegami (Shinichi Tsutsumi), the two gangsters who hate each other, gets a twist or two very early. Ikegami is in love with Muto's actress daughter Michiko (Fumi Nikaido). Muto's wife spent 10 years in jail and he attempts to make Shizue's (Tomochika) dream come true which is to have their daughter appear in a movie. To save his life, the daughter introduces Koji (Gen Hoshino), who is just a passer-by, as a movie director. Koji is running away and then requests from an independent film director Hirata (Hiroki Hasegawa) to cast Michiko as the leading actress in his film. However, everything soon goes completely wrong. After a few years making straight-faced, confrontational works like Himizu and Land of Hope, Sono has returned to the joyful gonzo style of his epic four-hour opus, Love Exposure. It has a fresh, bubbly feeling of dark action comedy which is simply fun to watch! Perfectly directed for maximum effects! Interesting and invigorating.
Why Don't You Play in Hell? Quotes
There are no approved quotes yet for this movie.