Why Him?
(2016)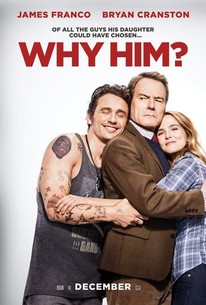 TOMATOMETER
AUDIENCE SCORE
Critic Consensus: Solidly cast but overall misconceived, Why Him? offers the odd chuckle, but ultimately adds disappointingly little to its tired father-vs.-fiancé formula.
Movie Info
Over the holidays, Ned (Bryan Cranston), an overprotective but loving dad and his family visit his daughter at Stanford, where he meets his biggest nightmare: her well-meaning but socially awkward Silicon Valley billionaire boyfriend, Laird (James Franco). The straight-laced Ned thinks Laird, who has absolutely no filter, is a wildly inappropriate match for his daughter. The one-sided rivalry-and Ned's panic level-escalate when he finds himself increasingly out of step in the glamorous high-tech hub, and learns that Laird is about to pop the question.
News & Interviews for Why Him?
Critic Reviews for Why Him?
Audience Reviews for Why Him?
½
I don't know why, when reviewing Bryan Cranston movies, or at least ones in which he is the main character, or one of them at least, I feel the need to point out my pure love for the series that made him most famous. Malcolm In The Middle. Just kidding, just kidding. Don't get me wrong, I also love Malcolm and I think Bryan is great there as this lovable buffoon. But, no, the show I mean is, FUCKING OBVIOUSLY, Sneaky Pete. No, that's not the show I mean. Okay, seriously now. I'm obviously talking about Breaking Bad. Breaking Bad, in my honest opinion, is the best television series that I have ever had the pleasure of watching. My fandom of the show is so much that I bought the first two seasons on DVD, purchased the third one on iTunes immediately after finishing the second season because I was sad and wanted more. Fourth and fifth seasons I watched on Netflix. And, after that, that same Christmas (must have been 2013) I bought the Blu-ray box set of the entire series and proceeded to watch the series all over again. So you could say that I'm a massive fan. And I am. Cranston himself was a revelation on the show. I always knew he was really fucking good because of his work in Malcolm, but Breaking Bad opened my eyes to how amazing this guy is as a dramatic actor. There's very, very few people in this world that are as effective at they are at comedic acting as they are at dramatic roles. Mr. Cranston is one of them. Some actors may be able to do it well, but most actors excel at one or the other. It's rare to find someone who succeeds completely at both. And, realistically speaking, he is the reason that I decided to watch this movie (as a result of my Cinemax free trial on Amazon Prime). I was looking for something to watch and I was settling on either Geostorm or Split (which will probably be tonight's choice). I kept browsing until this popped up and I picked it immediately upon finding that it was available to me. I mean, I really like James Franco, I honestly do, but if instead of him and Cranston it was, say, him and Tommy Wiseau then I wouldn't have bothered. Actually, scratch that. That's a movie I DEFINITELY WOULD WATCH AND LOVE. The point is that this movie has a concept that has been utilized to death and, honestly, there's nothing really new that can be told within this concept of the disapproving father and his daughter's crazy, free-spirited boyfriend. So many movies out there like this and, quite frankly, there didn't need to be another one, but there is, so here we are. What is there to say about this movie? I mean, the movie has a really strong cast, because on top of Cranston and Franco, you have Megan Mullally and Keegan-Michael Key. That might not sound like much but, trust me, with those four, you have a strong cast to help carry your script through its weaker moments. Having said that, the scripting isn't exactly great. I will say, though, that kudos to this being an R-rated movie. I think that allows them more creative leeway in terms of its gags than they would get if it was a PG-13 affair. There's nothing wrong with a good, raunchy comedy every now and then. Not saying that this is good, but what I mean is that sometimes people associate these raunchy comedies with low-brow humor and that isn't always the case. Superbad, as an example, has a lot of raunchy humor, but it's also a flick with a lot of heart and actual character development. As far as this movie is concerned, however, it is a bit of a mixed bag. Certainly this is a very watchable movie and you could say I even enjoyed myself (while not thinking of it as good, mind you). Mood definitely had a lot to play with that, because I was in a surprisingly good mood. Life has been difficult these past 3 weeks, with what happened to a loved one (no one died), but we're at the point where we're just gonna deal with it and, again, it's something that there's a solution for. It might have been avoidable and everything, but there is a solution and the loved one in question seems to be committed to doing what is necessary. Everybody's in good spirits, so, in spite of everything, the worst case scenario has also yielded the best case scenario, if that makes sense. But, regardless, the point is that I was in a good mood and I'm more receptive and forgiving. I just like the tone of the movie, it's obvious that everyone had a blast filming this and that helps. Having said that, however, the scripting is definitely a lot more hit than miss. I just think that, if it wasn't for the cast, it would have gotten a slightly lower score. Ned's the CEO of his own printing business. But, with everyone taking their business online, he's struggling. His company is more than $300,000 in debt. Of course, he has kept all of this from his wife. Ned is also close to his daughter, who's studying at Stanford. She invites him, and her family, to meet her boyfriend, who's the creator of this app development team. He's rich as fuck, naturally. He's eccentric and very foul-mouthed. Again, typical father vs fiancee stuff. Laird wishes to bond with Ned, so everything can be copacetic between the two. Plus Laird wants Ned's blessing to marry Stephanie, his daughter (duh). This is when the 'competition' between the two starts, with Ned trying to constantly undermine Laird at every turn and questioning his daughter's decision to be with him. He also feels that Laird is sucking his family in and turning them in his (Laird's) favor. Barb, Ned's wife, warms up to him. Scotty loves Laird. And Stephanie drops college to be the president of this non-profit organization that Laird set-up. So everyone in his family seems to be "turning" against him for Laird. Blah, blah, blah, Ned realizes that he probably shouldn't interfere in his daughter's life, pisses said daughter off, blah, blah, blah, reconciliation with Laird, and his daughter, and everything ends up all peachy. You've seen these movies and, really, this is by design, but the focus is always on the people feuding and not really the person they're feuding for. Stephanie is not really a character, she's just a plot device disguised as a character. I mean, Stephanie does bring up some good points that Laird and Ned made it all about themselves and fight over her as if she was their property, but she's still not a real character. There is some kernel of truth in what Ned said, though, that not only was all this (her having a boyfriend, leaving college and getting married) sprung on him at the last minute, but he also felt like he was losing his daughter way too quickly and that he felt like he didn't know her anymore. Not that that justifies their actions, of course, but you can see why, if this were real life, someone would be a little hesitant to, not necessarily go along with it because, ultimately, it's not their life, but to accept the change. Sometimes you feel you know someone that lives under your own roof and then you find out something about them that you would never have expected. That is multiplied exponentially when that same person lives on their own for a few years. When you see them again, if they're a friend as an example, they might seem like a completely different person. So there is something to that. As far as comedy is concerned, it's not great. The best scene, to me, is when Barb is high and she's down to fuck, but Ned's not having any of it. She tries to force him to perform oral on her. Also the scene with the the Japanese toilet that squirts water into your asshole so you don't have to wipe. Both Ned and Barb enjoy the water a little too much. Ned accidentally, Barb, though, very much on purpose as a result of Ned not having sex with her when she was high. Honestly, there's not many people that call pull a scene like this off. Just because of how preposterous it is. For example, Kevin James, who's a terrible comedic actor, would just overreact and turn it into a lame slapstick. Cranston's reaction is a little more subtle. This is what those years portraying Walter White were building to, where he can subtly pretend that the water spraying into his ass is pleasurable. GIVE THIS MAN AN OSCAR ALREADY! I don't know what else to say, this movie is what this movie is. Cranston is great, as he always is, but there isn't much to the movie. It's definitely perfectly decent and even enjoyable when in the right mood. But this is definitely not a good movie. It was just missing a more consistent comedic touch. Wouldn't recommend it, but there's worse ways to spend a couple of hours. Like having bad sex.
Jesse Ortega
Super Reviewer
Quite funny. Especially the earlier parts of the film.
Nicki Marie
Super Reviewer
½
With a good main cast I expected this to be much better, That's not to say it's a bad film as it's not but the story plods along never taking advantage of certain scenes to really get the laughs rolling, There's some funny moments but not really enough to be memorable but I do have so much respect for Bryan Cranston and James Franco so it's hard for me to hate this film.
Jamie Clarke
Super Reviewer
Why Him? Quotes
There are no approved quotes yet for this movie.